---
Posted
December 4th, 2016
Hyponatremia, or Water Intoxication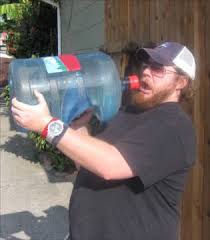 Drinking too much water left a woman with a urinary tract infection seriously ill, and doctors said water intoxication can kill you. The case in point is a 59-year-old London woman who, in an attempt to "flush out her system," drank water so copiously that she developed hyponatremia, also called water intoxication.
According to the Mayo Clinic:
Hyponatremia is a condition that occurs when the level of sodium in your blood is abnormally low. Sodium is an electrolyte, and it helps regulate the amount of water that's in and around your cells.
In hyponatremia, one or more factors — ranging from an underlying medical condition to drinking too much water during endurance sports — causes the sodium in your body to become diluted. When this happens, your body's water levels rise, and your cells begin to swell. This swelling can cause many health problems, from mild to life-threatening. (more…)