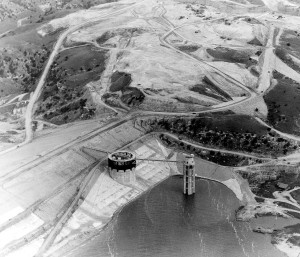 Kingsley Dam, 1941 (Click for larger view.)
Gazette Introductory Note: At a time when dams have fallen into disfavor and many of the older dams are now seen as an expensive nuisance to be gotten rid of, the  75-year-old Kingsley Dam stands as an exception. A product of combined private and public funding, the world's second largest earthen dam continues to provide electricity, entertainment, abundant water for agriculture, and important habitat for animals. –Hardly Waite.
The nation was changing quickly in 1910. Airplanes, radios and vacuum cleaners were new, and the Model T was a hot car. No one had an inkling about big things to come — things like World War I, Prohibition and the Dust Bowl. William Howard Taft was in the White House, and Nebraska still had a two-house Legislature.
It was against that backdrop that Charles McConaughy had his big idea.