As Summer Heats Up, Algae in Lakes Cause Concern
As summer temperatures rise, the presence of algae in some surface waters in the US has increased. Not all algae produce toxins that affect public health, but increased growth in recent years of  harmful algal blooms is triggering some concern.  Last August, a major algal bloom in Lake Erie caused the city of Toledo, Ohio, to issue a "do not drink" order for more than 400,000 residents.  The EPA estimated in 2009 that  20 percent of the nation's lakes are highly impacted by algae, and one-third contains some level of harmful algae.
In response to the rise in harmful algae in lakes, the  EPA determined toxin levels in tap water that are safe for human consumption and offered recommendations for how utilities can monitor and treat drinking water for algal toxins and notify the public if the water exceeds these levels.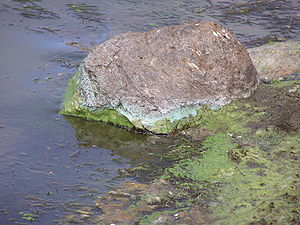 Green scum produced by and containing cyanobacteria. (more…)