---
Posted
October 22nd, 2016
Natural Zeolite Media for Fine Sediment Filtration
For many years the standard granular media used to reduce sediment were "multi media" combinations featuring such ingredients as garnet, anthracite, and sand. These mixed bed filters usually resulted in filtration down to 10 to 15 microns.
More recently, high purity zeolite has become the medium of choice for sediment filtration.  Modern zeolite filters achieve a 5µ nominal rating, with a couple of brands claiming to be even tighter.
There are some 40 known types of natural zeolites.  The most common is clinoptilolite.
Clinoptilolite is classified as "a crystalline, aluminum, silicon, oxide mineral." It is most commonly used in a 14 X 40 mesh format and weighs about 55 pounds per cubic foot.  Clinoptilolite resists abrasion and has a very high surface area. Most clinoptilolite used in water treatment is mined in the western United States.
Commercially, clinoptilolite is marketed for residential filtration under such brand names as Micro Z and Turbidex. It has a GRAS (Generally Recognized as Safe) classification and most brands have NSF Standard 61 certification to assure that they are adding nothing objectionable to the water.
Tests have shown natural zeolites to consistently outperform "multi-media" filters in terms of dirt holding capacity, service flow rate, and ease of backwash.
Zeolites can be used to treat almost any sediment or  precipitated contaminant, like iron rust. Zeolite can be backwashed with a moderate amount of water and it supports generous service flow rates. Studies have shown it to have 2.5 the solids loading capacity of sand. It can go longer between backwash sessions.
Turbidex Clinoptilolite Filters in Popular Residential Sizes
| | | | | | |
| --- | --- | --- | --- | --- | --- |
| Mineral Tank | Cubic Feet of Turbidex | Control Valve | Average Maximum Service Flow in GPM | Backwash Required in GPM | Price |
| 10″ X 54″ Vortech | 1.5 | Fleck 5600 SXT | 9 | 7 | $764 |
| 12″ X 52″ Vortech | 2 | Fleck 2510 SXT | 14 | 8 | $849 |
| 13″ X 54″ Vortech | 2.5 | Fleck 2510 SXT | 17 | 10 | $1029 |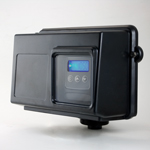 Fleck 2510 SXT Control. A tough filter valve with simple electronic programming.
Please call (888) 382 3814 for more information about the  filters described above.
More information about Turbidex, the media used in the filters listed above.
More information about the zeolite filters on this page.
The interesting history of zeolite filters.