21,000 Home Pools Water Slides Are Being Recalled After Death of a Young Colorado Mother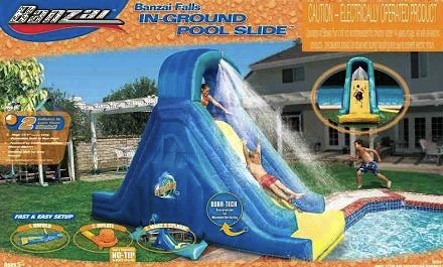 A 29-year-old Colorado mother died in Andover, Mass. after fracturing her neck going down a Banzai in-ground pool water slide which had been placed over the concrete edge of a pool. The woman hit her head at the bottom of the slide because it had partially deflated.
Wal-Mart Stores Inc., of Bentonville, Ark. and Toys R Us Inc., of Wayne, NJ, in cooperation with The U.S. Consumer Product Safety Commission (CPSC), are announcing a recall of about 21,000 inflatable Banzai in-ground pool water  slides.
Read more.