Nicaraguans told to eat iguanas as drought threatens food crisis
Lizard diet ridiculed but Central America's poorest country is facing hunger because of poor harvests and rising food prices
by Sam Jones
Nicaraguans struggling to afford meat as the country suffers its worst drought in 32 years should consider raising and eating iguanas, a government expert has suggested.
The advice comes amid warnings that Nicaragua, Guatemala, Honduras and El Salvador could require levels of humanitarian aid not seen since the aftermath of hurricane Mitch 16 years ago, as poor harvests and rapid increases in the prices of staple items threaten a food crisis.
"Breeding iguanas brings two benefits," said Guillermo Membreño, a land management expert. "Not only does it supply dietary protein, it also offers a commercial use for the animals."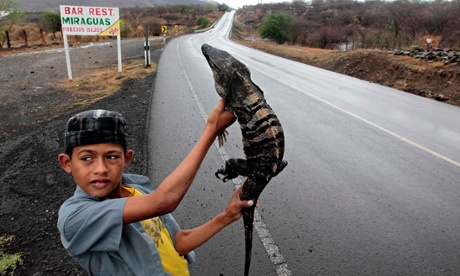 A boy holds up an iguana for sale on the highway in the north of Managua. Nicaraguans are being encouraged to eat the reptiles as a nutritious alternative to more conventional meat.
Iguanas, he added, contained 24% protein compared with 18% in chicken.
Although Nicaragua's environmental laws forbid the hunting of iguanas between 1 January and 30 April each year, the lizards can be kept for food and even exported under certain circumstances.
"Farming iguanas – and not hunting them in forests – is a good way to deal with the food shortages caused by the prolonged drought," Membreño told the government-run online newspaper La Voz del Sandinismo.
"Even if you've only got 10 iguanas, you've got something that offers food – and cash if you sell the iguanas for their meat, their skins or as pets."
He also suggested people grow moringa trees, which require little water and the leaves of which can be used as a highly nutritious animal feed.
A survey conducted by another Nicaraguan newspaper found that the cost of 15 of the 19 basic items in the average shopping basket – including such staples as beans, corn, tomatoes and peppers – had risen over the past week.
However, the government's suggestions met with a mix of scorn and ridicule from some Nicaraguans.
"I was going to have an iguana for breakfast, but it ran away. I was going to have beans, but they're up to 37 [Nicaraguan córdobas] a pound today," tweeted one.
Another, mocking the Sandinista government's motto – Christian, socialist, caring – posted a picture of an iguana with the caption:"Anyone fancy a caring mini-Godzilla?"
Despite the humour, the situation in Central America's poorest country is growing increasingly serious. According to the national livestock commission, Conagan, the drought saw 2,500 cattle starve to death last month, while a further 600,000 of Nicaragua's 4.1m livestock are on the verge of starvation.
On Monday the drought's effect on crops and food prices ledNicaragua's central bank to cut its economic growth outlook and raise its inflation forecast. The bank said it expected growth in gross domestic product to be between 4% and 4.5% this year, down from the 4.5% to 5% it forecast in the spring.
A day later the Famine Early Warning Systems Network (Fewsnet) released an alert highlighting the risk of widespread food shortages in the region next year.
"As a result of projected poor harvests in 2014, the reduction in coffee-sector income for day labourers, and a more rapid than usual increase in the prices of some staple foods, extremely poor households across large areas of Guatemala, Nicaragua, Honduras and El Salvador will experience a rapid deterioration in their food security in early 2015," it said.
With the drought and the forthcoming El Niño affecting both the livestock and fishing industries – and coffee rust disease ravaging the crop on which the region is heavily dependent – Fewsnet warned that "atypically high" levels of human assistance would probably be needed to avert a food crisis.
"Depending on the performance of rainfall and markets over the coming months, the number of people in need of assistance could be the largest since hurricane Mitch in 1998," it said. "Governments and their partners should begin response planning immediately to protect livelihoods and household consumption over the coming year."
Source: The Guardian