A Case for Water
by Amy Bickel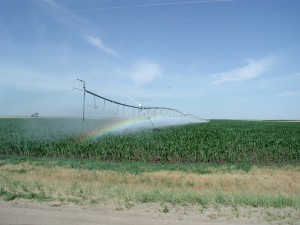 Editor's Note: This piece illustrates the eternal dilemma of "who owns water" and the complexities of the laws that define the right to the use of water. It underlines the urgency of the issue.  It also puts water use in perspective when we consider the dripping faucet that we are taught to worry about in the context of an irrigation well that pumps out 1,500 gallons per minute to water a corn field.  To conserve water, should we not be worrying more about what we eat and how much we drive our cars than about dripping faucets?  –Hardly Waite.
The battle over water is being played out in Haskell County District Court.
Fifth-generation farmer Jay Garetson says if nothing changes in a few years his area of western Kansas will run out of irrigation water.
So Garetson, his brother, Jarvis, and their families made an unpopular decision several years ago: They are testing the state's water law.
"The Ogallala has been massively over-drafted," Garetson said. "If we don't make changes and large changes and make them soon, we might not have anything left to talk about other than what part of the country we are moving to."
First in time
With water law, one rule is the cornerstone – first in time, first in right. The longtime law gives senior water rights priority over junior rights. Thus, if a senior right is impaired, then the owner of the junior right could be ordered to reduce irrigation from their well or be shut off completely.
Such a law hasn't been tested often among groundwater users, especially in the Ogallala Aquifer of western Kansas.
But state leaders, including Gov. Sam Brownback, aren't hiding the fact that the Ogallala Aquifer is waning due to an overabundance of irrigation wells – largely drilled in the 1950s and 1960s. Today, water by the hundreds of gallons per minute is being pumped out of the ground in some places, with recharge not coming close to refilling it.
A longtime proponent of preserving the Ogallala, Garetson has his own junior rights. His hope in filing an impairment claim on his family's oldest water right would prove that action is needed to save the Ogallala.
"Water is precious, and it is required for life," he said. "It shouldn't surprise us it is heated and passionate – it needs to be engaged by a broad of section of Kansans."
Making a case for water
The case originally goes back to 2005 when the Garetson family first filed impairment on their vested water right – one of the oldest water rights in Haskell County. Vested rights are the most senior rights in the state – rights developed before the Kansas Water Appropriations Act of 1945.
Jay Garetson said the Moore family, some of the county's early pioneers as well as close family friends, first drilled vested right HS003 – the third water right granted by the state in Haskell County – in the 1930s. The Garetsons, whose great-grandfather come to Haskell County in 1902, purchased the Moore land and the water right in 1977.
As more wells continued to dot the farmland around them, Garetson said they had to drill the well deeper twice because of the water table's decline. The last time, they drilled down to 450 feet deep and, mostly likely, as deep as they will be able to go.
When he was growing up on the farm 30 years ago, the well pumped 1,500 gallons per minute.
"Now we are struggling to pump 300 gpm," he said, adding the well varies from 300 to 450 gallons per minute and the water level in the area continues to drop five to six feet a year.
But the issue sat idle for several years. After backlash and threats from the community, the Garetsons dropped the charge in 2007.
"Our goal has been to bring attention to the urgent state of decline of the Ogallala Aquifer in GMD No. 3," the Garetsons wrote in their withdrawal letter. "Rather than being a positive catalyst for change in the effort to extend the useful life of the aquifer as a whole, we have been perceived as selfishly damaging our neighbors for our own gain."
In 2012, the brothers decided to file impairment again.
"There is not enough water to go around. We've known that for 40 years now," he said. "It is getting bad enough something needs to happen."
Whose water is it?
It could be months before any outcome in the case, Garetson Brothers v. American Warrior, an oil company owned by Cecil O'Brate, Garden City, is reached, said Mark Rude, director of southwest Kansas' Groundwater Management District No. 3.
However, on May 5, the judge in the case issued a temporary injunction, meaning the oil company can't pump water from its junior wells in question in the case to irrigate crops this summer. The judge also issued a temporary injunction from pumping in May 2013.
The Kansas Division of Water Resources study also noted impairment in a study released earlier this year.
According to the court document regarding the injunction, it was noted that DWR had determined half the water draw-down at the location is caused by the Garetson well, while the other half is due to the pumping of five nearby wells. DWR attributed 25 percent of the draw-down to American Warrior's two wells that are in the lawsuit.
With the case still pending in court, O'Brate, who has farm and ranchland, declined to comment at this time. The Kansas Department of Agriculture also did not comment on the case or on questions regarding water right laws.
Rude, who was called to testify for the defendant, said while it is not the first time water law has been tested, he does think it is the first time the prior appropriations doctrine has gone to court with injunctions issued on junior water rights.
"What this injunction suggests, you have a solid case to go to court," he said, adding it could change the status quo.
He added that not all water decline battles have come to the court. Irrigators in Sheridan County came together a few years ago to implement a mandatory cuts in usage. Meanwhile, Groundwater Management District No. 1 in west-central Kansas is preparing to put a similar savings measure – a 20 percent cut for all but vested rights – to the vote of members.
Rude noted that the "first in time" law was originally created for surface water rights. Over time, the Ogallala developed as a groundwater source and those same water laws applied.
"The question is, under the court of law, who is entitled to the water that remains?" said Rude.
Vision for water
For now, the issue of depletion is a top priority for the state. Last fall, Brownback unveiled his vision for water, saying the state must move forward to preserve its natural resource. He made it clear that the issue is one he wants answered – and soon.
If Kansans continue down the current path, the state's water resources could be nearly spent in 50 years, according to the Brownback administration. Moreover, roughly 70 percent of Kansas' Ogallala – the lifeblood of the region's economy – would be depleted by 2064. About 40 percent of the area being irrigated now wouldn't even be able to support a 400-gallon-a-minute well to pump water to a corn crop.
Garteson, however, thinks those changes could happen even sooner.
"There is a lot of fear – we are talking about millions and millions of dollars of livelihood that are at stake here," Garetson said. "We in southwest Kansas have been blessed for so long. Some of us have grown up second, third and fourth generation in a lifestyle that is unsustainable without some major changes. We have had so much water for so long, we really thought the desert would bloom for an eternity.
"I think the western Kansas desert could continue to bloom for a long time forward, but we have to buy time to learn new ways to use water more effectively and in small quantities to make it a long-term proposition."
Source:  Kansas Agland.