---
Posted
November 3rd, 2013
What Are Fiberglass Mineral Tanks Made Of?
by Pure Water Annie
Good , sincere, heartfelt information from the Occasional's Technical Department.
Editor's Note:  This article is adapted from a longer piece that appeared in the Pure Water Occasional for May 2011. — Hardly Waite.
The water filter pictured below is built with a conventional fiberglass mineral tank. In water treatment, these tanks are used to build virtually all filters and water softeners. They're called "mineral tanks" because the stuff you put in them, whether it's carbon, Birm, water softener resin, or calcite, or any other granular water treatment medium, is collectively referred to as "mineral." In the vernacular, the tanks are made of a substance called "fiberglass."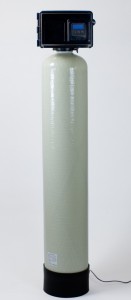 When someone asks what a filter or softener tank is made of,  the short answer is simply to say "fiberglass" and be done with it,  although this really isn't true.
According to a leading manufacturer, Structural, what we often refer to as "fiberglass" tanks do in fact have a band of fiberglass reinforcement on the outside. The inner shell of the tank, however, is made of Polyethylene, Polypropylene, PVDF. ECTFE (aka HALAR), FFT.and "around 50 other custom materials."
The tanks have certification of the following agencies: NSF, WQA, and Druckbehalterverordung (German).
So, should you worry about drinking or bathing in water that has been exposed to fifty to sixty plastics? Should the fact that it has certification by such prestigious approving agencies as NSF and WQA ease your concerns?
I can't answer that one for you. Pure Water Annie can't solve all your problems. The alternative to the sixty plastics is a stainless steel tank that costs ten times as much, doesn't work as well, and probably has its own set of health issues that haven't been discovered yet. Our experience has been that in spite of popular mythology, stainless tanks aren't as "leak-proof" as fiberglass. "Fiberglass" mineral tanks have been around a long time and no one has yet shown that they do any harm. Myself, I'm at home with them. But Pure Water Annie doesn't know everything.