Water loss: seven things you need to know about an invisible global problem
by Sarah LaBecque
A staggering 46bn litres of drinking water are lost globally every day. What can consumers, business and governments do?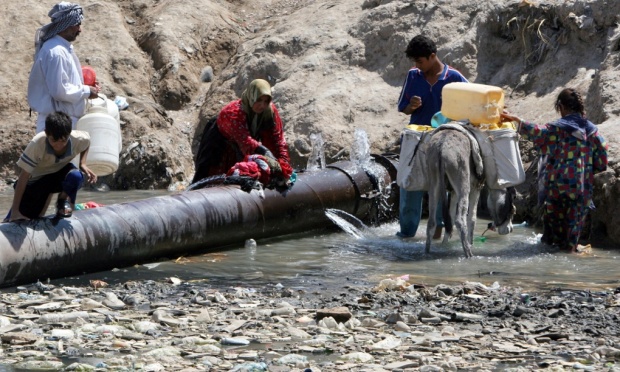 Iraqis fill drinking water and wash clothes at a broken water pipeline in a Shia district of Sadr City, Baghdad. 

While concerns over water conservation, access and hygiene feature high on the news agenda, the problem of water loss often gets overlooked. Yet this vital issue affects millions of lives. A recent live discussion hosted by Guardian Sustainable Business looked at the role business and government should play in addressing global water loss and where things are set to go next. Here's what you need to know.
What do we mean when we talk about water loss?
Water loss is often referred to as non-revenue water (NRW) – water that is produced in a network but never reaches the consumer. This might be due to aging networks which haven't been properly managed, metering inaccuracies, theft or unmetered authorised consumption, like water used from fire hydrants.
It's not a problem restricted only to the developing world either – Montreal, for example, loses 40% of the water it produces (pdf).
But Louise Whiting from WaterAid was keen to make sure the word "lost" is properly defined. "Very often", she said, "water is used but then returned to the system in virtually the same quantity".
So when we speak of water loss in an industrial sense, we're referring to that which is not returned to the system through natural processes like, for example through plant transpiration.
There isn't a one-size fits all reason which explains water loss
Plain, old-fashioned leaky pipes have much to answer for in explaining why NRW costs utilities about $14bn (£9bn) per year, but Marco Fantozzi, water loss regional representative for south east Europe for the International Water Association, says not all NRW is due to leakage.
Distribution systems in many parts of the world are not efficient enough, he says, and there is a lack of "state of the art technologies, not enough awareness of best practice methodologies and not enough training".
So addressing this global issue means looking at infrastructure, but also at utilities, and if they're embracing new technologies and investing in staff training.
Newer cities might have better rates of loss as well, like in the US where most distribution systems are younger than 100 years. These systems "may have less loss due to improved materials of construction and better construction techniques", said Dale Jacobson, governor of the World Water Council.
Consumers have a part to play in this issue
In the UK, the majority of consumers feel that their utility is not doing enough to reduce leakage – 70% in fact, according to Tony Smith, chief executive of the Consumer Council for Water. This perspective in turn affects consumers' motivation to conserve water themselves.
"Two thirds of water customers feel their efforts to save water make little difference when so much is being lost through leakage", offered Smith. At the end of the day, industrial water loss is a public policy issue which must be addressed by business and government, but consumers can put the pressure on. And they can do their part when it comes to conserving water at home and when on holiday.
Governments should be imposing targets on utilities to reduce losses
In the UK, OfWat, which is responsible for regulating water usage, has targets in place which water companies must meet as regards water loss reductions. Fantozzi mentioned that this was something European governments should be replicating. "UK utilities are in general more efficient than the average European utility," he said.
The very fact that water loss isn't a widely known or understood problem means policymakers and government need to integrate targets into country and international-level agreements, but political will sometimes lacks.
Technologies and solutions are available

First of all, you must address the more "low-hanging fruits" – active leakage control and pressure management, said Morten Riis, business development manager at Grundfos. Maintaining stable pressure in pipes within a distribution network "has proven to have a positive and immediate effect on reducing the water loss." And technologies like intelligent water pumps and distributed sensor systems for leak detection offer great opportunities for efficiency improvements.
Jacobson also highlighted water audit programs offered by the American Water Works Association (AWWA) and the International Water Association (IWA). "The IWA/AWWA Water Audit Method features sound, consistent definitions for the major forms of water consumption and water loss encountered in drinking water utilities. It also features a set of rational performance indicators that evaluate utilities on system-specific attributes such as the average pressure in the distribution system and total length of water mains."
The private sector will play an important role in reducing water loss in the developing world
Governments in the developing world don't necessarily have the financial resources to invest in network infrastructure – their efforts would more likely be centred around issues of hygiene or access. Indeed, Leong Ching, senior research fellow at the Institute of Water Policy, University of Singapore says the likelihood of developing countries being able to finance new and impoved infrastructure developments is slim. 7% of the world's population was served by private water companies in 2009, whereas that figure is projected as 23% for 2015, she says.
Jacob Tompkins, managing director at WaterWise said: "There is a big role for public-private sector collaboration, but … the key is appropriate regulation of this process – this is where NGO and community group involvement is essential."
Are corporates getting involved?
Selma Spaas, program leader of the International Water Leadership Programme at Nyenrode Business Universiteit brought up this important question. The burden of managing water loss is often naturally pinned to utilities and government, but corporations can get their feet wet too, or dry in this case. "I won't mention them by name," said Smith, but there are "'major retail household brands' operating in the UK and overseas" who have done a lot. In an effort to save money and as part of their corporate social responsibility strategy, Smith mentions that supermarkets in particular are communicating to their customers about water conservation.
Hannah Greig, private sector advisor at WaterAid was a bit more sceptical, however. "Corporates are recognising water is an increasing risk but action isn't yet following at the same pace – and even fewer corporates are including the impact on communities as part of their risk assessments," she said.
Considering the World Economic Forum ranked water crises as the top global risk in its 2015 Global Risks Report, business would be wise to engage in reducing water loss.
Source: The Guardian.