Global Water Treatment Chemicals Market to Cross US$ 31 Billion by 2017 Says TechSci Research
According to a recently published report by TechSci Research "Global Water Treatment Chemicals Market Forecast & Opportunities, 2017,"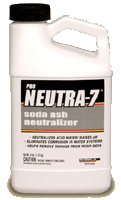 the water treatment chemicals market will surpass $31 billion by 2017,
This is due to the increasing fresh water demand from consumers and industries along with increasing demands to clean up waste water.
According to the report, the demand for treatment chemicals is certain to grow enormously in the near future.
The research firm divides treatment chemicals into six very profitable segments:  "Coagulants and Flocculants which accounts for maximum demand globally followed by Biocides and Disinfectant. These two segments alone accounts for more than 60% revenues from water treatment chemicals business. The other segments in water treatment chemicals market are Inhibitors, Defoamers & Defoaming agents, pH adjusters & softeners. By 2017, it is anticipated that highest growth will be witnessed in pH adjusters and softeners market which will growth with compounded annual growth rate (CAGR) of more than 4%."
Whether this is good news or bad depends on one's perspective.