Greenpeace Accuses Authorities in India of Diverting Water from People to Power Plants
Greenpeace has charged that in drought-plague Maharashtra, the state government diverted water to thermal power plants in scarcity regions.  Water being released from dams, Greenpeace says, is going to power plants when it should be going to people.
The state government said in a government resolution of January of 2013 that water from big, small and medium projects should be reserved only for drinking water, keeping the acute scarcity in mind. Greenpeace believes that this promise is not being carried out.  The area is experiencing the worst drought in 40 years. Many areas report zero storage.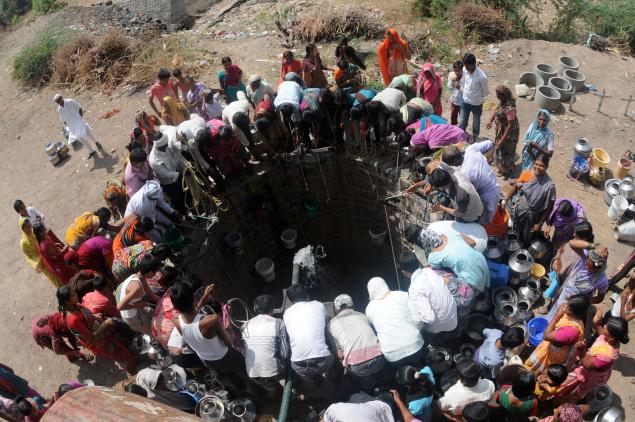 In the picture above, a government tanker pours 20000 liters of water into the well at Arvi village in Beed district of Maharashtra. As soon as the tanker arrives to empty the water in a well hundreds of villagers rush to fill vessels for household use. 
Energy production is a high consumer of water.   In the power plants of the region, to generate one MW of coal based power, 4,000 to 5,000 liters of water are needed per hour.
Greenpeace has called for a cumulative water impact assessment in the river basins of the state,  a halt to diversion of water in the meantime, and eventually an energy policy which is less water intensive.  Power plant officials point out that they are doing all they can to recycle and conserve water and that power, too, is essential to the region.
Reference source: The Hindu.