---
Posted
September 15th, 2013
Dwindling Water Supplies Make Every Drop Count
 Drought and chronic water shortages played a significant role in sparking Syria's civil war and in unrest throughout much of the Middle East, water experts now believe.
Around the world, water demand already exceeds supply in regions with more than 40 percent of the world's population. That may climb to 60 percent in the coming decade, a new study has found.
"Water-scarce regions can't grow enough food to feed their own people," said co-author Manzoor Qadir of United Nations University's Canadian-based Institute for Water, Environment and Health (UNU-INWEH).
About 70 percent of the world's freshwater – and up to 95 percent in some countries – is used for irrigation. There is intense competition for freshwater between municipal, industrial, and agricultural uses. Increasingly, agriculture has been losing out, particularly in water-stressed regions, Qadir told IPS.
Between 2006 and 2011, up to 60 percent of Syria's land experienced its worst ever drought and a series of crop failures. In 2009, the U.N. reportedthat over 800,000 Syrians lost their livelihoods and fled to cities as result of the drought.
The entire Mediterranean region is undergoing a prolonged drought that has been linked to climate change, according to a recent U.S. study. If climate-altering carbon emissions continue at current rates, droughts in the region will worsen and lengthen.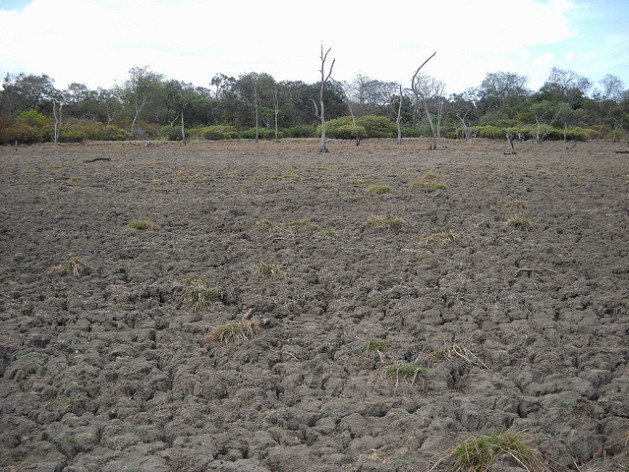 Drought In Sri Lanka
As water supplies fall, many regions are using urban wastewater, a very valuable resource if it is treated properly, says the study "Global, regional, and country level need for data on wastewater generation, treatment, and use", published Sep. 5 in the journal Agricultural Water Management.
This is the first study to look at how wastewater is used in 181 countries. One of the key findings is that only 55 countries have good data. Synthesising what data there are, researchers found that high-income countries treat 70 percent of their wastewater while middle-income countries treat 28 to 38 percent. Just eight percent of wastewater generated in low-income countries undergoes any kind of treatment.
"From the earliest of times, most wastewater has truly been wasted. However, it is a vast resource if we reclaim it properly, which includes the separation of municipal from industrial wastewater," said UNU-INWEH Director Zafar Adeel.
The volume of wastewater potentially available worldwide each year is equivalent to 14 months of outflow from the Mississippi River into the Gulf of Mexico, Adeel told IPS.
In poor, water-scarce countries, wastewater is widely used to irrigate foodlands – some estimate as much as 300 million hectares producing 10 percent of the world's food, the study says.
However, there is little data to confirm this. It is often a country's 'dirty little secret' that much of the food consumed in urban areas is grown using untreated wastewater.
Wastewater is valuable because it has very high level of nutrients, including potash, nitrogen and phosphorus, eliminating the need and cost of fertilisers. However, untreated wastewater can transmit diseases such as cholera. Chile experienced cholera outbreaks and banned the use of untreated wastewater in 1992.
"Disease outbreaks from using wastewater do happen but it is rarely cited as the cause," said Qadir.
One reason is that few studies have been done. A few years ago Qadir and colleagues discovered higher rates of waterborne diseases like gastroenteritis in children in the Mediterranean who were eating food grown using untreated wastewater.
In the 1990s, fruit and vegetable exports from Jordan were banned for similar reasons. Jordan has since implemented an aggressive campaign to rehabilitate and improve wastewater treatment plants and introduced enforceable standards.
"Israel uses nearly every drop of its wastewater with specific uses determined by the quality", Qadir said.
Many homes in California have separate grey and black water collection systems. Grey water from showers and dishwashing is reused to water lawns and gardens, the report said.
People are generally reluctant to eat food grown using wastewater but it is perfectly safe if treated properly, Qadir stressed.
"Unfortunately, water treatment is not seen as a priority in many countries."
Source: Inter Press Service
Pure Water Gazette Fair Use Statement