---
Posted
September 15th, 2016
Recent Water News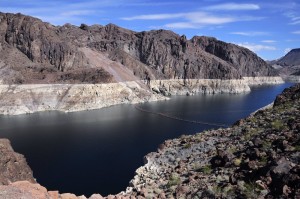 With the western US drought it its fifth year, Lake Mead sank to its historic low. The "bathtub ring" shows the dramatic decline of the water level.
Coca Cola announced that it now replenishes as much water worldwide as it draws from natural sources to fuel its production. Exactly how this is accomplished is not clear.
August 28 to September 2 was World Water Week in Stockholm. Joan Rose received this year's Water Quality Champion prize.
A body was recovered from the McMillan Reservoir that provides much of the drinking water for Washington, D.C.
Over the past two years Texas has received record-breaking rainfall, recording the most rain since 1942.
The FDA issued a rule banning 19 specific chemicals in liquid and bar soaps, including triclosan (commonly used in liquid soap) and triclocarban (used in bar soap). The agency says manufacturers have not shown that these products are any more effective than plain soap and water in preventing illness or stopping the spread of certain infections.
A group of dairy producers in Kewaunee County, Wisconsin announced that it will pay more than half the cost of drinking water purification systems for residents whose wells have been polluted by animal waste.
Vermont has lowered the drinking water allowable from 35 to 3 parts per million for the pesticide TFM which is used to control the sea lamprey in state waters.
Six members of a Sioux tribal group called Standing Rock Water Protectors were attacked by dogs and pepper spray while demonstrating against continued development of the Dakota Access Pipeline.
The EPA has fined the U.S. Army $100,000 for continuing to operate illegal cesspools in Hawaii.
New York state has an ambitious project that recycles old toilets to create oyster reefs. The reefs will not only serve as habitat for oysters but will also provide erosion protection for wetlands and natural filtration of sea water.
A Florida teenager has won an annual open-water swimming competition off the Florida Keys.
Seventeen-year-old Noah Zhang of Jupiter, FL won the Swim for Alligator Lighthouse open-water swimming competition, completing the 9-mile swim in 3 hours and 46 minutes.
About 980 million liters of contaminated water leaked into Florida's main underground source of drinking water after a huge sinkhole opened up under a phosphate fertilizer plant near Tampa.