---
Posted
November 1st, 2016
Water News
October, 2016
Now, link free for your reading pleasure.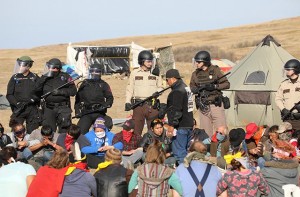 Police from five states were brought in to protect pipeline interests from unruly water protectors group pictured above sitting in a prayer circle in protest of the Dakota Access Pipeline.
A Texas state legislator is proposing a vast underground water storage system that would keep the state in water during a drought of up to seven years.
Louisville gets its drinking water from the Ohio River. It is currently finding about 20 ppt of PFOA, or C8 (Teflon), in its water. The recently established EPA health advisory level for PFOA is 70 parts per trillion.
f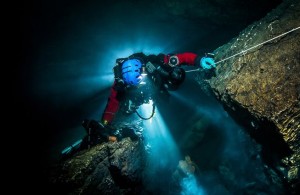 The title of world's deepest underwater cave now belongs to the Hranice Abyss in the Czech Republic. An expedition team led by Polish explorer Krzysztof Starnawski used a custom-designed underwater vehicle to descend to a record-breaking 1,325 feet into the murky depths.
Another leak of radioactive water occurred at the the crippled Fukushima No. 1 nuclear plant.
The US Air Force is drilling 18 test wells in an attempt to determine how perfluorinated compounds, or PFCs, contained in firefighting foam, is contaminating water south of Colorado Springs. PFCs, which have been linked to prostate, kidney and testicular cancer, were found earlier this year in water systems serving about 69,000 people in Fountain, Security and Widefield. Subsequent story:  Air Force officials now admit that the base near Colorado Springs sent water laced with toxic firefighting foam into the city's sewer system as often as three times a year.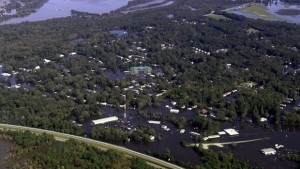 Hurricane Matthew brought unprecedented flooding. Princeville NC, shown above, was underwater days after the torrential rains ceased.
A horse track in Scarborough, Maine is closing its barn because of horse manure contamination that is seeping into groundwater.
The Gannon men's water polo team snapped a 19-19 deadlock with three unanswered goals during the final 69 seconds to win a 22-19 exhibition shoot-out against Mount San Antonio.
Weeks after the hurricane, clean water is still not available to thousands of Haitians.
Recent studies have revealed the unexpected truth that the world's water storage reservoirs are major producers of greenhouse gas, accounting for 1.3 percent of the world's greenhouse gases—as much as the entire country of Canada. Reservoirs are big producers of methane in particular, which is 34 times more potent than carbon dioxide in environmental degradation.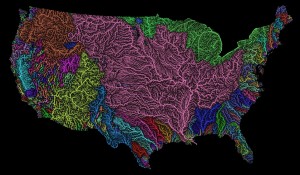 This map, made by Imgurian Fejetlenfej, shows all the different river basins around the country. The Mississippi River basin is shown in pink. It takes up most of the map.
A UNESCO organization released a list of the world's top ten water consuming countries. And the winners are:
China: 1.5 billion people, 362 trillion gal
U.S.: 300 million people, 216 trillion gal
Brazil: 175 million people, 95 trillion gal
Russia: 143 million people, 71 trillion gal
Mexico: 100 million people, 53 trillion gal
India: 1.1 billion people, 30 trillion gal
England: 60 million people, 20 trillion gal
France: 60 million people, 20 trillion gal
Canada: 33 million people, 19 trillion gal
Australia: 20 million people, 12 trillion gal
Over onr million gallons of water were lost when a 24" water main broke in Middletown, CT. "To give perspective, the average in-ground swimming pool holds 7,000 gallons—so losing 1 million gallons is like losing the water in 142 in-ground pools in an hour."
A Pennsylvania university student accused of putting bleach in his pregnant girlfriend's  drinking water in an attempt to harm her fetus has been charged with attempted murder and held on $1,000,000 bond.
A $250 million drinking water tunnel, called a siphon, from Brooklyn to Staten Island has been activated. The tunnel will be capable of delivering up to 150 million gallons of water per day to Staten Island.
In the city of Groves (TX) tests found lead in the water of 25% of the homes tested. City authorities blame the high lead findings on solder in the pipes of the homes themselves.