War and Water in Syria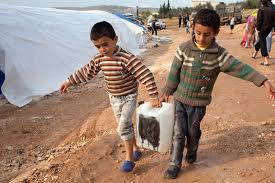 Water availability in Syria has been cut in half since the conflict there began nearly four and a half years ago, and millions of people around the country endure "long and sometimes deliberate interruptions to their water supplies,"  according to a United Nations report.
In a report about the scarcity of water in Syria, Unicef said it had recorded 18 deliberate cuts to the public water supply in the northern city of Aleppo this year. "Taps in some communities were left dry for up to 17 days in a row — and for over a month in some areas of the city," the report asserted, accusing antagonists in the conflict of "using water to achieve military and political gains."
Unicef estimated that 2.3 million people in Aleppo, 2.5 million in Damascus and 250,000 in the southern city of Dara'a are suffering water shortages. When water has to be brought in, children are often sent by their families to carry water, a practice that has led to the deaths of number children  who have been killed while collecting water.
Further, the group warns, the cuts have forced families in Damascus, Dera'a, Aleppo, and other areas to "have to rely on dirty water from unregulated and unprotected groundwater sources, exposing children in particular to the risk of contracting diarrhea, typhoid, hepatitis, and other diseases."
In addition to the "deliberate" cut offs, fighting has exacerbated the shortages by causing severe damage to pipelines and other water infrastructure where workers are unable to carry out the repairs.