Dried up: Poverty in America's drought lands
By Amy McDonald
In more than two decades working at a Central California food bank, Sandy Beals has never seen anything like this spring.
Last month alone, FoodLink of Tulare County served 22,000 people who came in for food — 5,000 more than it usually serves each month and a 12 percent increase from the same month last year. For Beals, who runs the food bank, the spike in hunger traces back to one thing: drought.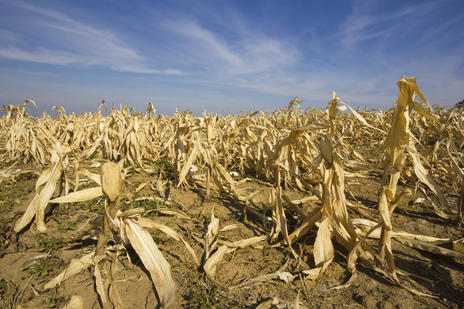 "We didn't think we would hit a big peak until August, but it's already started to climb," Beals says. "And it's going to get a lot worse" as the end of the crop season normally drives more migrant workers to FoodLink's services.
Tulare County is just one of the hundreds of counties across the country experiencing drought, including every county in California, according to ratings by theU.S. Drought Monitor. Conditions are such that Gov. Jerry Brown declared a state of emergency in January.
The drought situation is driving up prices nationwide for produce grown in the Golden State's Central Valley and other agricultural areas stricken by drought, such asKansas, Oklahoma and Texas. And among rising food costs, access to clean water and growing unemployment, the drought's hardest-hit victims are the country's poor.
"We like to say we live in the greatest country in the world," says Melinda Laituri, a geography professor at Colorado State University who specializes in disaster management. "But in many ways, we manifest all the very worst things. (Drought) impacts the everyday life of everyone. But it has more impact on those who have fewer options and fewer choices to make."
Water poverty
Unlike tornadoes or hurricanes, relative to other natural disasters, drought often goes unnoticed, says historian Elke Weesjes, a disaster researcher at the University of Colorado. And dried-up land has especially devastating effects for those already facing the challenges of poverty.
"Drought doesn't photograph well because the impact is very much hidden," Weesjes says. "It's translated into economic losses and whole communities are affected by drought."
Laituri agrees.
"Sometimes it's easier to deal with too much of something — like a flood or a big storm that comes in. It's something we can respond to rapidly because it's an event," she says. "It's only after several years that we realize we are in a drought."
In Tulare County, 29.7 percent of residents live below the federal poverty line — making it the most impoverished county in the state and among the highest poverty rates in the nation. The drought has hit Tulare County's poor particularly hard, especially families like 80-year-old Carmen and Al Almanza. The retired couple were surprised in early April when water simply stopped coming out of their faucet.
They rely on their son, who brings a trash can filled with water to their home three times a week, and grandchildren, who bring them bottled water for drinking.
Local water authorities told the Almanzas their well was dry and they needed to dig about 150 feet deeper — which could cost anywhere from $7,000 to $15,000. The couple, living only on Social Security, say they can't afford that kind of renovation.
"I just need my well fixed," Carmen Almanza says. "You can imagine it's difficult to open the faucet and expect to have plenty of water, and now we don't."
The couple's problem is becoming more common throughout the Central Valley, where 90 percent of residents rely on groundwater. Residents must search elsewhere for water to meet basic needs like laundry, cooking, teeth brushing and showering. Many residents must buy their drinking water from grocery stores up to 15 miles away from their homes or individual bottles of water from convenience stores.
That's partly because even in places where wells haven't run dry, much of the groundwater has been contaminated by farming chemicals and low water levels. The problem of water contamination in the Central Valley has existed for decades, but the situation is exacerbated by the drought because less water means higher concentrations of nitrate and arsenic (among other contaminants).
The longer the drought persists, the higher the contamination, says Susana De Anda, executive director of Community Water Center, a California-based nonprofit organization that helps communities access clean water through funding and policy advocacy.
Small communities have little infrastructure to treat water for safe use, and water funding has been prioritized to bigger, more urban water needs. Even if clean water were available, it would be running through antiquated pipe systems that cause contamination, De Anda says.
The contamination also creates a financial burden on residents who have to buy potable water to replace the groundwater they pay for but can't use.
People in one community in Tulare County spend an average 3.9 percent of their household income on water expenses, according to a pilot study done by CWC. That exceeds the 1.5 percent affordability threshold recommended by the U.S. Environmental Protection Agency. And some households spend up to 10 percent of their income on water alone, De Anda says.
That means some families are spending $100 to $150 a month just on water, says CWC policy analyst Omar Carrillo. He says he knows families who are living on $14,000 a year, paying $100 a month in water bills for contaminated water and then buying bottled water on top of that for drinking. For some, that's more than they spend on groceries.
"There are trade-offs," Carrillo says, referring to sacrifices families make to pay for their most basic needs. "They'll end up without something."
Community Water Center has been working to help families access safe drinking water since 2006, and De Anda says she sees the state's drought emergency as an opportunity to leverage emergency federal funding that previously wasn't available for people who have been without clean water, even years before the onset of the drought.
CWC has made some short-term gains with $4 million in federal grants for emergency water supply in disadvantaged communities. As a result, residents of Tooleville, a small community in Tulare County, will soon receive free bottled water for three years. Other communities are applying for grants to provide free clean water either from vending machines or by delivery. These are short-term solutions, to be sure, but the water provided by emergency funding is a huge relief for families with steep water bills, De Anda says.
Plus, within the next month, Tulare County's Community Action Agency will begin offering assistance with water bills. It's a service it typically can't afford, usually only offering help with electricity and gas bills. But Brown recently signed off on a drought relief package of roughly $686 million, $28.5 million of which is allocated specifically for emergency drinking water and water supply.
Water is food
But the impact of the drought on the Central Valley's poor isn't limited to water problems.
Tulare County sits in the center of California's Central Valley, which supplies up to half of the nation's fruit, nuts and vegetables, according to the California Department of Food and Agriculture. Prices of produce like avocados, lettuce and grapes have increased dramatically, according to the Bureau of Labor Statistics' Consumer Price Index, and are only expected to increase.
The price of avocados, for instance, is expected to increase between 17 and 35 cents due to drought,estimates Arizona State University researcher Timothy Richards. Consumers all across the country have felt the impacts of rising food prices, but those costs weigh heavily on the poor, says FoodLink's Beals.
Families living in poverty spend roughly 21 percent of their household budget on food alone, more than twice the percentage average Americans spend, according to the Bureau of Labor Statistics. And higher prices for healthy foods like fresh produce exacerbate the long-established link between poverty and obesity as low-income families maximize their calories per dollar. Plus, 11.5 million poor Americans live in a low-income area over a mile away from a grocery store, according to a report from the U.S. Department of Agriculture.
Most of the donations FoodLink relies on are food and money that come from the agricultural community, and Beals says even though the drought relief funding allocates $25 million for disaster boxes of food staples like rice, beans and canned vegetables, she mourns the loss of the healthy food donated by farmers in the area. "We pride ourselves on giving fresh produce, but that is no longer true," she said. "We're going to be getting less help."
That's why De Anda and the Community Water Center are intent to improve policies regarding water. If an apple is food, water is food too, De Anda says. And clean water is where it starts.
Source:  Deseret News.