The Viqua VH200 Series UV Units
The Perfect UV Unit for Most Residential Applications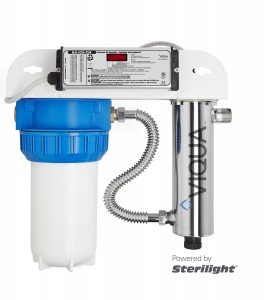 The Viqua VH200 F10
The compact but powerful Viqua VH200 ultraviolet unit is ideal for most residential use, either for well water or city water.  Though it is rated for nine gallons per minute, the unit puts out double the dosage needed for bacteria like E. coli even at sixteen gallons per minute.  This makes it plenty powerful for all but very large homes.
The VH200 is an economical unit that uses only about half as much current as a 60-watt light bulb and consequently it generates far less unwanted heat than more powerful UV units.
The VH200 comes from the factory in two formats: as a single, independent UV chamber, or as a bracket-mounted 2-stage system that includes a 4″ X 10″ sediment filter. (See picture above.) In either format it can easily be coupled with standard filtration equipment to add carbon filtration as well.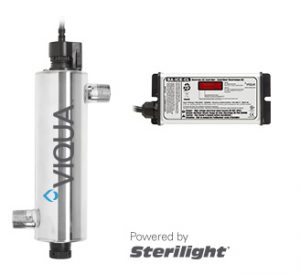 Viqua VH200 UV Unit comes complete with mounting bracket. Easy to install, easy to maintain.
Here are some highlights:
 Versatile: Available with a sediment prefilter (Model VH200 F-10), and can be easily combined with other standard filtration equipment if desired.
Convenient: Mounted on a reversible, heavy duty, painted steel bracket for installation flexibility and convenience. This means you can install with the inlet water on the left or on the right. Combo inlet fits both 3/4″ and 1″ pipe.
Ease of Maintenance: Audible lamp replacement reminder and countdown timer with digital display. It reminds you when it's time to change the lamp. Lamp life is a bit over a year. Controller will also go into alarm if the lamp fails.
Reliable: The constant current feature ensures stable UV lamp output, regardless of power fluctuations
 Powerful: High-performance UV lamp, rigorously tested to provide consistent output over the entire lamp life (9000 hours). See power ratings below.
Space Efficient: High UV output lamp technology allows for a smaller footprint, while maintaining the same UV dose as a longer chamber.
Features & Specs  VH200 F-1
Disinfection Flow Rates
16mJ/cm2
16 GPM (60 lpm) (3.6 m3/hr)
30mJ/cm2
9 GPM (34 lpm) (2.0 m3/hr)
40mJ/cm2
7 GPM (26 lpm) (1.6 m3/hr)
Specifications
Dimensions
17″ x 10 1/2″ x 18″ for VH200 F10.  VH200 is 17.75″ X 3.5″.
Shipping Weight lbs (kg)
26 lbs. for VH200 F10.   (VH200 is 12 lbs.)
Connection Size
1″MNPT INLET / 1″ x 3/4″ COMBO OUTLET.
Power Consumption
35W
Pure Water Products part numbers for these units are UV909 for VH200 single unit and UF918 for VH200 F-1 unit with sediment filter.
We also have upgrade kits that allow the VH200 to be combined with high flow carbon block systems.
Current Pure Water Products Pricing for the VH200 Units.  Prices include shipping.
UV909 Viqua VH200. UV Only.  Single unit without filters. — $585.
UV918 Viqua VH200-F10.  UV unit with  10″ X 4.5″ sediment filter. — $705.
UV909Plus. Pure Water Products Hybrid VH200 with sediment and carbon block filters.  Consists of 4.5″ X 10″ sediment filter, 4.5″ X 20″ carbon block filter, and VH200 UV unit. Made with Pentair "Big Blue" housings. Stainless connector and pipe nipples included.
940 382 3814
pwp@purewaterproducts.com