---
Posted
January 26th, 2017
Upflow Carbon Filters, for Excellent Whole House Water 
For City Water Users

Simple "in/out" upflow carbon filters offer an inexpensive way to remove chlorine or chloramine from city water. Among the simplest of water treatment devices, they require no electricity, no drain connection, no setup programming, no cartridges to change, and, for years, no upkeep.
Our in/outs feature the best parts available for simplicity of operation, long service life, effective performance. We use the superior Vortech mineral tank and the tough, reliable Clack In/Out Head. An optional bypass valve is sold separately. We highly recommend that a sediment filter be install after the filter to assure that media fines do not enter service lines, and it is totally essential that a sediment filter be installed in front of all upflow filters to protect against sediment intrusion.

The upflow style is used by some internet sellers for products promising "one million gallons" of service life. We make no such claims, but a service life of five years or more can normally be expected before media replacement if the filter is adequately sized. Our upflow units are straight carbon filters without mixed media or magic ingredients.  We believe that media with different purposes, like descaling agents or KDF, should be, if the customer wants them, installed in a separate tank. In general we don't like mixing media and we don't like split-level tanks.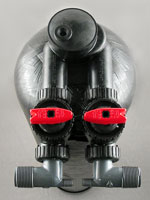 A Pure Water Products Upflow filter with the optional bypass (with red handles) installed. Upflow units need no drain connection, no electricity, and normally need no maintenance other than a media change after  years of service.
These units can be purchased without media (supply your own) or with standard bituminous carbon, coconut shell carbon, or catalytic carbon, either standard or coconut shell. They are build in Vortech tanks, so gravel underbed is not needed.
For sizing, here are some general suggestions:
Sizing Suggestions
| | | |
| --- | --- | --- |
| Tank Size | Treating Chlorine | Treating Chloramine |
| 8″X 44″ | Small Office or Break Room | Small Office or Break Room |
| 9″ X 48″ | Small Home. 2 people | Small Home. 1 Person. |
| 10″ X 54″ | Home with 3 to 4 people. | Home with 2 people. |
| 12″ X 52″ | Home with 4 to 6 people. | Home with 3 to 4 people. |
| 13″ X 54″ | Home with 6 or more people. | Home with 4 to 6 people. |
Please call Pure Water Products, 888 382 3814, for pricing or for more information.