---
Posted
February 12th, 2017
Turning Water Into Electricity
Pure Water Gazette's Famous Water Picture Series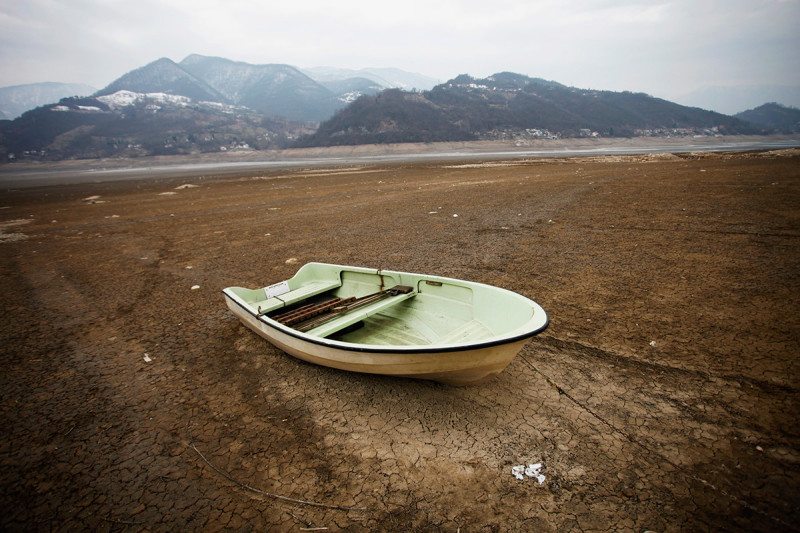 Jalanica Lake, 2017
A large artificial lake in the Balkan state of Bosnia and Herzegovina, called Jalanica Lake, totally vanished this month and with it an estimated 2 million fish.
Water levels in the lake are usually regulated to keep enough water to generate hydroelectricity and to avoid floods in the city of Mostar, which lies downstream. So it came as a surprise to local people to see the lake completely drained and with it all its life gone.
Normally, the lake is 30 kilometres long, around a kilometre wide with a depth of about 70 metres. Water levels had dramatically dropped twice before, during droughts in 2005 and 2012, but never by this much.
The discharge was carried out largely last month by power firm Elektroprivreda BiH, which says it was needed to maintain electricity production during a dry and especially cold period when energy demand was above average.
Scientist agree that the ecosystem has been completely degraded. However, Elektroprivreda BiH said in a press release that the discharge didn't cause an ecological disaster, and added that water is already returning, as it did in 2012, when low levels also didn't hurt fish stocks.
Reference: New Scientist.