---
Posted
December 16th, 2018
"Taking a sledgehammer to the Clean Water Act"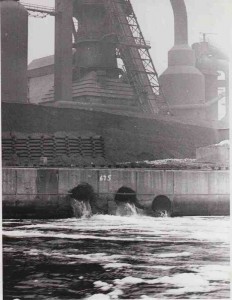 Cleveland's Cuyahoga River before the Clean Water Act. The Cuyahoga was so chemical-laden that it caught on fire several times.
The Trump administration will formally start the process of lifting federal Clean Water Act protections for millions of acres of wetlands and thousands of miles of streams across the U.S., undoing decades of protections against pesticide runoff, industrial waste, and other pollutants. The proposed rules, to be unveiled by the Environmental Protection Agency in December, 2018, are a victory for agricultural and real estate interests but are likely to degrade the drinking water used by tens of millions of Americans and endanger fisheries and the habitats of migratory birds and other species.
President Trump promised during his campaign to roll back the Obama-era Waters of the United States rules, an expansion of federal protections under the the Clean Water Act of 1972, but the new Trump proposals target protections dating back to the George H.W. Bush administration or earlier. The Trump rules, which will be subject to 60 days of public comment, will keep protections for larger bodies of water but remove federal safeguards for wetlands not adjacent to navigable waterways plus most seasonal streams and ponds. The newly vulnerable streams provided drinking water for as many as 1 in 3 Americans, especially in the arid West, according to scientific studies used by the Obama-era EPA. And when small streams are polluted, they feed into larger streams and lakes, affecting the quality of drinking water for the entire nation.
The Trump EPA calls that data incomplete and will argue that it is tackling an Obama-era federal power grab against rural farmers. Trump's promise to end the Waters of the United States policy was cheered by farmers, real estate developers, golf course owners, and mining and oil firm. Environmental groups call the new proposal a disaster. "It is hard to overstate the impact of this," Blan Holman, managing attorney at the Southern Environmental Law Center, told the Los Angeles Times. "This would be taking a sledgehammer to the Clean Water Act and rolling things back to a place we haven't been since it was passed. It is a huge threat to water quality across the country, and especially in the West."
Adapted from: The Week.
Reference: Trump proposes to roll back decades of water protections" from Politico.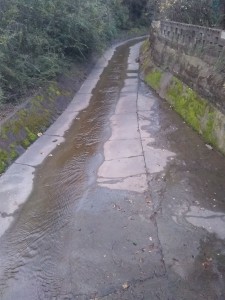 We call this picture "Cement River in Winter Viewed from the Bolivar Street Bridge".  It features one of the "season streams" that are no longer protected by the Waters of the United States rules. All water is connected. When you pour motor oil into the Cement River, it eventually makes its way into somone's drinking water reservoir.