Tiger Tom's Dog Products Page
Featuring valuable tools to help people put Rover in his place and keep him there.
Tiger Tom's Deluxe Dog Signage Sets.
A complete set of signs for all occasions to help Fido figure things out.
Although canine creatures sometimes appear to be able to follow simple commands like "sit" and "shake,"  the more complex rules for living in our technological society fly right over their heads.  Teaching your mutt "roll over" is one thing, but you're wasting your breath when you start talking to him about how he can take a dump on this side of the yard but not on the other or about how we get up early five days a week but barking isn't allowed before 10:30 on Saturday.
That is why I, Tiger Tom, have cleverly devised my Canine Training Signage Kit  It is made up of skillfully drawn signs depicting 25 separate moral lessons for dogs in graphic terms that Bowser's tiny brain can understand.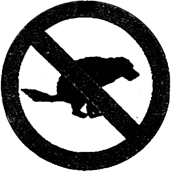 At left, for example, is one of the signs from the series.  Need I explain its meaning?  With copies of this sign strategically placed on your lawn and flower bed areas, Bruno now has no excuse for his lifelong habit of random and obnoxious defecation. And I, Tiger Tom, say that with warning signs in place, ignorance is no longer an excuse.  Being a soft-hearted tiger, I do not recommend first-offense capital punishment for sign-rule violation, but for serious offenses like random defecation it is certainly justifiable as a second-offense consequence.
Other morally uplifting sign-lessons from my Canine Training Signage Kit deal with issues like
Do not lick your balls when the Pastor comes over for dinner.
No digging on the carpet.
Do not attack the UPS driver.
Do not eat from the cat litter box.
Random digging prohibited.
It's OK to lie down without turning around three times.
No recreational barking.
Do not blow your disgusting breath in my face.
Dog Signage Kits are only $99.50, plus $6 shipping.
Tiger Tom's Deluxe Dog Feeder
If You Love Your Dog, Let Him Eat the Way Nature Intended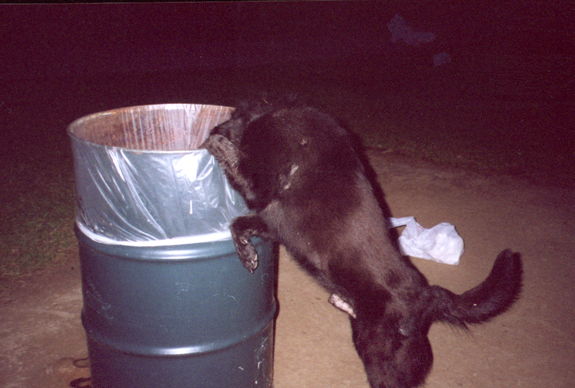 Tiger Tom's Deluxe Dog Feeder, pictured at right, will give new meaning to your dog's life and end feeding problems for good.
My deluxe feeding barrels, the same heavy-duty barrels that are used by city parks departments, will give Spot a lifetime of dining pleasure.  In tests conducted here at the Gazette's laboratories, we've established that dogs derive a full 66.83% more pleasure and 56.8% greater nutritional value from food served in my feeder as compared with food served in the usual stupid pet store-variety cutesy feeding bowl.
Let's face it.  Most dogs are ashamed to eat from a a little plastic bowl with a picture of a puppy on it.  Eating from my dog feeder satisfies not only your canine's physical hunger but also addresses his hunting instinct.  Food from an authentic city trash barrel satisfies his self esteem and gives him something to be proud of.
And, here's the best part.  Your Tiger Tom Authentic Dog Feeder will quickly pay for itself in food savings.  If you've been enticing your pooch to eat with expensive food preparations,  you'll find that with my feeding barrel Rover will eat even the most disgusting of throw-aways.  Even coffee grounds and rotting carrots, when dug from a feeding barrel, become coveted culinary delicacies.  And if you have more than one hound,  it's even better, because my tests show that canine dining pleasure increases exponentially with competition.  When two dogs are fed from the same Tiger Tom Dog Feeder, they fight over morsels that they would not even sniff at if served in a conventional feeding bowl.  With dogs, digestion improves with rage.
Order today and begin saving on dog food right away. You'll have a happier, healthier dog. 
Tiger Tom's Unique Dog Feeder: $66. (Please call for volume pricing.)
Shipping in the Continental U.S.: $65.
For special lettering with the name of the Parks Department of your city: $35.50.
Please Specify Dark Blue or Sunshine Yellow.
Other Products–Coming Soon:
Home neutering kit.
Dog Yummies (cat excrement wrapped as candy.)