This Week's Top Water News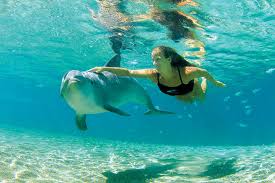 Hawaii is expected to ban the popular tourist attractions that allow tourists to swim with dolphins.
A single shower using products made with plastic microbeads can result in 100,000 plastic particles entering the ocean. Goverments are being urged by environmentalists to ban plastic microbeads.
Sacred water on a Crow reservation in Montana is contaminated with high levels of uranium.
Researchers found that Gwynns Falls on the western side of  Baltimore is contaminated not only with raw sewage from leakage from the city's sewer system but also significant levels of pharmaceuticals and illegal drugs.
An estimated 4,500 people in Havelock North (New Zealand) got sick with a gastrointestinal infection linked to campylobacter bacteria in the town's water supply. An intrusion of fecal bacteria from livestock was suspected.
Hydgrogen sulfide levels in the Salton Sea continue to rise and the stink rising from the water is definitely on the increase.
The market for activated alumina, used for a variety of purposes in water treatment, including fluoride removal, is expected to reach $1,110 million by 2024.
A German public broadcasting station drew a barrage of criticism for reporting that Israel does not provide adequate water for the Palestinians.
A Canadian animal rights activist was arrested for giving water to slaughterhouse-bound pigs, and in Georgia a man was sentenced to 40 years in prison for pouring boiling water on a sleeping gay couple.
The NCAA Playing Rules Oversight Committee for water polo announced that stricter rules for misconduct will be in effect during the 2016-17 season.
On Aug. 26, 2016,  President Barack Obama announced the establishment of the largest ocean sanctuary on the planet. His action quadrupled the size of an existing refuge,  Hawaii's Papahānaumokuākea Marine National Monument, created originally by President George W. Bush.
It is estimated that the water lost from leaking pipes exceeds seven billion gallons every day.