Unholy pollution in India's holy waters
By Victor Mallet in Varanasi
For foreigners and Indians alike, the shocking state of the Ganges is an enduring mystery. If the river is so holy, why do the 450 million people who depend on it for water and food treat it with such contempt?
There cannot be many high priests who understand sewage treatment technology, but in the holy Hindu city of Varanasi it makes sense: every day thousands of devotees bathe in the Ganges from the steps of the city's famous ghats, convinced not only of the sanctity but also of the purity and medicinal qualities of the river water.
So Vishwambhar Nath Mishra – mahant (religious leader) of the Sankat Mochan temple to Hanuman the monkey god, president of a foundation set up by his father to protect the Ganges and professor of electronics engineering – knows a thing or two about activated sludge plants and faecal coliform bacteria.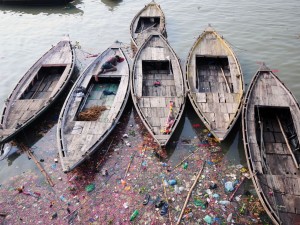 The Ganges at Varanasi
Varanasi, he tells me at the temple after a night-time ceremony of chanted prayers, produces 350m litres a day of sewage, but is able to treat only 100m litres – and even that only partially. But amid the clamour of India's general election Prof Mishra senses an opportunity to rescue the river from industrial pollution and human waste: Varanasi, also known as Benares, Banaras or Kashi ("the city of light"), has now become the focus of national politics.
"The place where you're sitting" – he points at the mat on the floor – "Modi was sitting there on the 20th of December." That was the day Narendra Modi of the Hindu nationalist Bharatiya Janata party, favourite to become India's next prime minister, went on to address his first mass rally in the city.
"He was a mute spectator. Whatever I was saying, he was just listening," says Prof Mishra firmly. "I said, 'Modi-ji, you are going to address a big crowd. It would be nice if you could consider, if you could deliberate on this [Ganges] issue. Most people are not aware of it.'"
On that day and since, Mr Modi has responded handsomely to Prof Mishra's request, calling the Ganges his mother and promising a clean-up. Seeking Hindu support across India, and eager for votes from the vast population of the city's hinterland in Uttar Pradesh, Mr Modi is also standing as a member of parliament for Varanasi. Arvind Kejriwal, leader of the anti-corruption Aam Aadmi or Common People party, is doing the same to challenge Mr Modi.
As thousands of rowdy supporters packed Varanasi's streets last week to glimpse Mr Modi presenting his nomination papers for parliament, the BJP leader praised the cultural glories of Varanasi while lamenting the state of the Ganges. In parts of Uttar Pradesh, he said in his blog, the river's condition was "pitiable".
For foreigners and Indians alike, the shocking state of the Ganges along much of its 2,500km between the Himalayas and the Bay of Bengal is an enduring mystery. If the river is so holy, how come the 450m people who depend on it for water and food treat it with such contempt? Why has so much state money for cleaning the river been wasted, stolen or simply never spent?
Varanasi itself provides a clue. Say it softly while you are there, but the holiest city in India is also among the filthiest and most dilapidated. Drains are blocked with garbage. Tour guides blithely discard plastic cups into the Ganges after finishing their tea. When you stumble across yet another heap of rubble in the streets, it is hard to tell if it comes from an ancient building that has collapsed or is destined for another that may – eventually – be built.
This is more than just a lack of civic pride. The river's sanctity may itself be part of the problem. B D Tripathi, head of environmental science at Banaras Hindu University, has been concerned about the Ganges since 1972, when he bathed with his mother and encountered the floating corpse of a cow. When he spoke of pollution and started measuring it, his mother and others were appalled. "Varanasi is a religious place," says Prof Tripathi. "They said: 'You are not a Hindu. The water of Ganga [the Ganges] is the most pure.'"
He is not discouraged. He campaigns against dams that reduce the river's water flow and claims to be the first to calculate how many human corpses are burnt each year at Varanasi's main cremation ghats: 32,000, he says, releasing 200 tonnes of half-burnt flesh into the Ganges.
If Mr Modi does become prime minister, and if he is elected in Varanasi, those in the city who care for the Ganges will be quick to hold him to his promises after decades of broken government pledges. Prof Mishra says he will be "the first person to tell him: 'You made this commitment in Sankat Mochan temple.' Our objective is that not even a drop of sewage should go into the Ganges." The devoutly Hindu Mr Modi has been warned.
Source:  Financial Times,
Pure Water Gazette Fair Use Statement
See this related article.