---
Posted
September 5th, 2015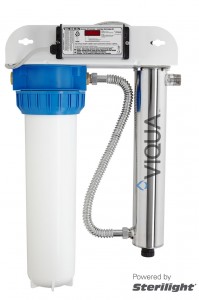 New Product: The Classy Viqua VH420-F20 UV Unit
We now stock the new Viqua 18-gallon-per-minute ultraviolet unit.  It's an ideally sized UV system for all but the very largest residential users, treating a generous 18 gallons of water per minute for bacteria, cysts, and viruses at a strong 30 mJ/cm2 UV dosage.
The VH420 unit comes with its own 5 micron sediment filter, conveniently mounted on a U-shaped rack that can pointed in either direction to meet the installer's requirements. It is backed by the many years of experience behind the Sterilight and Trojan brands, now merged under the Viqua name.
The dosage rating for the powerful residential unit is

16mJ/cm2 @ 34 gallons per minute
30mJ/cm2 @ 18 gallons per minute
40mJ/cm2 @ 14 gallons per minute.
The unit's 5 micron sediment filter is mounted in the superior Viqua easy-service housing (see picture below) that accepts all standard radial flow 4.5″ X 20″ cartridges. See full details on the filter housing here.  The high quality Viqua UV lamp is equally easy to service.  Lamp change can be done without turning off the service water.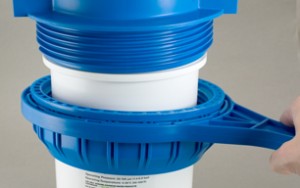 Viqua is the manufacturer of both the prestigious Sterilight and Trojan lines of ultraviolet equipment. We are factory-direct Viqua vendors and can supply any Sterilight, Trojan, or Viqua branded items.
Please call for information:  Pure Water Products. 940 382 3814.