The Gazette's Famous Water Picture Series: Step Wells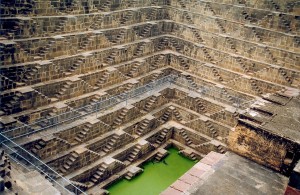 The famous step well called Chand Baori. 
(Click picture for larger view.)
Built in Rajasthan (India) around 850 AD, it was dedicated to Hashat Mata, Goddess of Joy and Happiness. Chand Baori, built in an arid region, was designed to conserve as much water as possible. Temperature at the bottom of the well is five or six degrees cooler than at the surface, so the well was used as a community gathering place during times of extreme heat.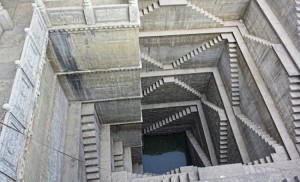 This recently built "step well" responds to the need to access water regardless of the water level. Step wells have been used in India since as early as 200 AD. The well in the picture is in the village of Modi.  Such wells serve not only as a very practical source of water. They often demonstrate artistic and architectural innovation,  have religious, cultural and social significance, serve as village meeting places, have significant artistic value and promote local business by attracting tourists.