Cracking water pipes afflict Rockwell City's waste water treatment plant
Introductory Note:  We're publishing the piece below as a footnote to recent articles about the plight of water departments facing the high cost of fixing or replacing decrepit water infrastructure. The EPA estimates that the US will need $400 billion for infrastructure upgrades over the next twenty years. 
Rockwell City, Iowa — In older communities cracks in water pipelines often allow ground water to seep into water treatment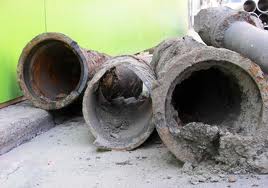 systems. At Rockwell City's waste water treatment plant it's currently taking in more water than what is produced by the water treatment facility. Preliminary steps to solve the problem were taken at Monday's city council meeting. Before any work is done crews will send cameras down into the pipelines and televise images back to workers. They'll be able to see the amount of cracking and determine if the pipes are straight or bent. Once the amount of damage is determined the city could potentially slip line the current piping system to solve the problem. Estimated costs for a portion of a slip lining project could run upwards of $700,000.
The water main on High Street, however, will need to be replaced in the near future. Three to four city blocks of pipeline, including a section which passes under old Hwy 20, have seen constant repairs over the past few years. The lines will now be dug up and replaced at an estimated preliminary cost of around $200,000. Some of that cost will include the replacement of the road the pipes run under.
Reference Source:  CBC Online.