Simple and Effective All-In-One Chlorine Treatment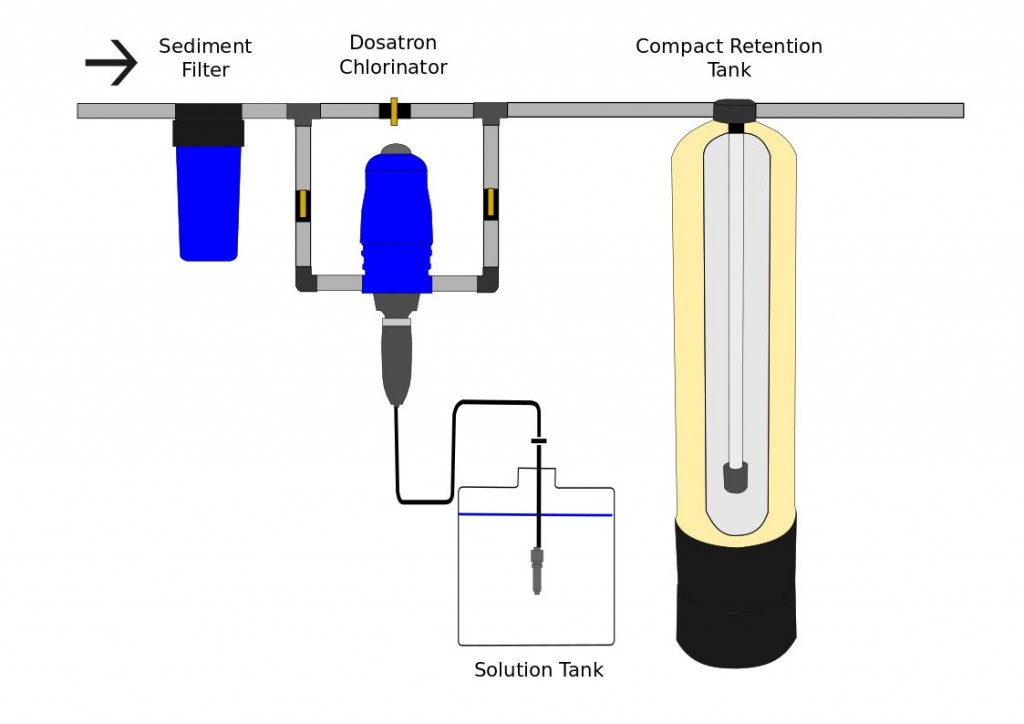 Our compact residential chlorination system needs no electricity. The simple chlorine pump operates on water pressure, and it needs no expensive metering devices because the rate of flow through the water pipe determines the rate of chlorine injection. No over-sized retention tank is required because the system uses an advanced design compact tank that outperforms much larger conventional retention tanks.
The system consists of a sediment filter, a Dosatron NSF certified 14 gallon per minute water driven injection pump, a 15 gallon solution tank, and the advanced  12″ X 60″APW (Nelsen) compact retention tank.  The system has everything needed to treat bacteria, iron, manganese, or hydrogen sulfide odor.
A filter appropriate to the targeted contaminant must be added after the retention tank. The filter is not included. The equipment shown on this page is pre-treatment for filtration.
The compact all-in-one chlorination system is designed for use in standard residential applications, but it can be easily adapted to other uses.  It is especially good for part-time residences like summer homes or hunting cabins because the retention tank has a bottom drain that makes winterization easy. It's also perfect for remote locations like workshops, barns, or remote apartments. The fact that no power is needed, of course, makes it ideal for off-grid homes.
Unlike electric pumps, the water-powered system can be installed anywhere in the water line without regard to the well's pressure tank or electrical system.
The complete chlorination system, without filter, is currently priced at only $1095.