---
Posted
September 16th, 2018
A Filter Control Valve that Costs Less and Does Not Need Electricity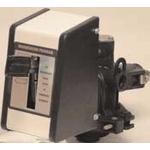 Fleck's Simple 2510 Manual Control.  No Electricity Required. It Isn't Sexy, But It's Very Functional.
Fleck 2510 Manual.  This is the most basic of filter valves, yet in many situations it can be the best.  In spite of the low price, it's a tough and durable piece of equipment.  The 2510 Manual is a  non-electric control that requires manual backwash and rinse.  It is, therefore, not practical if backwashing needs to be performed daily (as with many iron filters, for example), but for a clean city water application where chlorine removal is the main purpose, a monthly backwash is often sufficient and performing it can be a 15-minute task.  The valve operates with a simple selection lever and has only three choices: Service (means the filter is in service, providing water for the home), backwash, and rinse.  Performing the backwash and rinse is like shifting gears in an car: pull the lever to backwash and let it run for five to ten minutes, pull it down to rinse for a couple of minutes, then return it to service.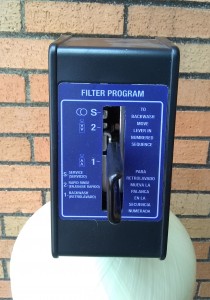 Simple lever-controlled programming includes Service, Backwash, and Rapid Rinse positions. No electricity needed.
The 2510 Manual Control unit has exactly the same capacity as the larger-format, fully automatic 2510 timer control, but it costs approximately $150 less and requires no electrical connection.
Suggested uses:
City water chlorine or chloramine filters that require only infrequent backwashing.
Remote installations like seasonal cabins where an electrical connection is not available.
"Off the grid" installations where saving electricity is high priority.
Installations where a permanent drain connection is not convenient. (The filter must have a drain for backwash and rinse water, but it can be hooked to a garden hose and used for lawn or garden irrigation. The filter's drain can be easily fitted with a garden hose connection.)
Any intermittent-use application where it's easier to regenerate the filter manually than to continually reprogram an electric control valve.