Pure Water Products No Longer Sells Siliphos Spheres
by Gene Franks
We hate dropping a product when we have customers depending on it, but we're no longer selling Siliphos spheres. I like the product a lot (I use it in my own home) but it's one of a few products that we're setting aside so that we can give better service on our core products.
This leaves a few customers (including me) looking for a place to buy replacement spheres. Fortunately, there are now lots internet sources. Just search for "siliphos spheres." Here's a picture of what you're looking for.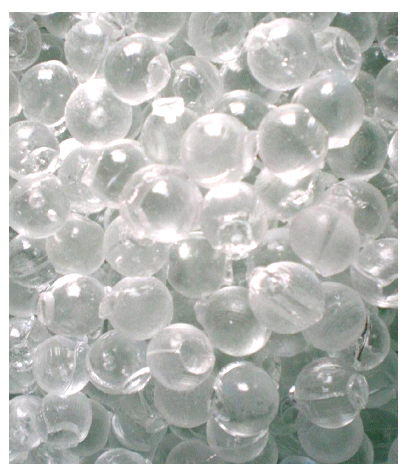 What you need to know about the product is that it dissolves into the water very slowly. It doesn't need to be discarded and replaced; it just needs to be replaced when the container is empty. We estimated once a year replishment on the  three unit sizes that we were offering, but that was a round-number guess and differing conditions require different refill intervals.
Buying siliphos, you need to know that a pound is about 50 spheres. Here's a chart showing the standard units that we've sold with the approximate number of spheres needed for each.
Basic Stand-Alone Siliphos Units from Pure Water Products
| | | |
| --- | --- | --- |
| Unit Description | Home Size | Cartridge Size  |
| Compact Unit with Clear Housing. Installs on 3/4″ pipe. Cartridge holds 100 siliphos spheres (a couple of pounds). | One or two people. | 9.75″ X 2.5″ |
| Standard Unit with Blue Housing, for 3/4″ or 1″ Pipe.  Cartridge holds 200 siliphos spheres (about 4 pounds). | Two to Six People | 9.75″ X 4.5″ |
| Large Unit with Blue Housing for 1″ or 1.5″ Pipe. Cartridge holds 250 siliphos spheres (around 5 pounds). | Six people or more | 20″ X 4.5″ |
All units have refillable cartridges. Just screw the bottom off of the cartridge and pour in new spheres.   We have replacements for any part on the unit, including the cartridge shells, and we have complete customer records, so call if  you're unsure  about how much siliphos you need.  888 382 3814.
A few of our customers add a few spheres to the center core of carbon block filters. The end plugs for the cartridges are reusable, but if you need replacements we can supply them until our current stock is gone.