It's Istanbul Not Constantinople
Just as Constantinople was renamed Istanbul, Watts Water Quality's star descaling product ScaleNet is being rechristened as OneFlow. The popular TAC medium is being rebranded to share a  name already in use by another branch of the company.
In addition to the name change and a couple of minor alterations in the delivery hardware, the new OneFlow product will be offered at a higher  price.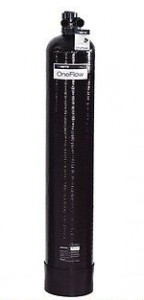 The new OneFlow unit looks exactly like the old ScaleNet unit, except for the decal and the  price tag.
Look for the new ScaleNet (OneFlow) pricing on our main website.  We will also be adding FilterSorb to our website offerings.  FilterSorb is a competing salt-free conditioning system that will be priced lower than the OneFlow units.  Here are the main residential sizes and prices:
| | | |
| --- | --- | --- |
| Description | GPM Rating | Price |
| FilterSorb 8 X 44 with 3 liters of Filtersorb. | 10 | $677.00 |
| FilterSorb 9 X 48 with 4 liters of Filtersorb | 12 | $884.00 |
| FilterSorb 10 X 54 with 5 liters of Filtersorb | 15 | $1,075.00 |