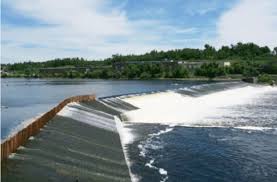 This year marks the 20th Anniversary of the removal of the 160 year old Edwards Dam on the Kennebek River.
Edwards Dam was a hydroelectric dam on the Kennebec River in the U.S. state of Maine. It was located in Augusta, Maine, about 40 miles (64 km) upstream from the Atlantic Ocean. Built in 1837 of timber and concrete, it was 917 feet (280 m) long and 24 feet (7.3 m) high. It is most famous for its removal in 1999, the first removal of a hydroelectric dam by the government against the wishes of the dam owner. 
Twenty years ago, the annual run of alewives (a migratory fish essential to the marine food web) up Maine's Kennebec River was zero. Today, it's five million — thanks to the removal of Edwards Dam and additional restoration measures upstream. The Kennebec and its web of life have rebounded in many ways since Edwards Dam came down in 1999.
The removal of Edwards Dam was significant because it was the first time the federal government ordered a dam removed because its costs outweighed its benefits. The restoration of the Kennebec sparked a movement for free-flowing rivers in the U.S. and around the world.
According to the dam removal database maintained by American Rivers, 1,605 dams have been removed in the U.S. since 1912. Most of these (1,199) have occurred since the removal of Edwards Dam in 1999. The year with the most dam removals was 2018 (99 dams removed). 2017 was the second most productive year, with 91 dams removed.
The lesson from the Kennebec after twenty years? Dam removal works.   The Natural Resources Council of Maine report that since Edwards Dam was removed on July 1, 1999, tens of millions of alewives, blueback herring, striped bass, shad, and other sea-run fish have traveled up the Kennebec River, past the former Edwards Dam, which blocked upstream passage since 1837.  Abundant osprey, bald eagles, sturgeon and other wildlife have also returned.
According to American Rivers, "On a basic level, dam removals matter for the specific rivers and ecosystems that are restored to health. But looking at the bigger picture, dam removals also matter in terms of our relationship with all rivers – because with every individual act of restoration we're creating a new and compelling picture of what the future can look like. We're spotlighting the benefits that healthy, free-flowing rivers can naturally provide. We're demonstrating the power of local citizens to drive positive change. And we're proving that communities can reclaim their rivers and their stories."