Rain in North Texas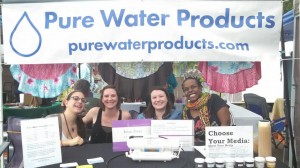 At Denton's Farmer's Market, May 23, 2015, PWP employees, from left, Kristen Lewis, Katey Shannon, Kacy Ewing, and Theresia Munywoki, are pictured just before a rainstorm cut the event short. Click picture for larger view.
Those praying for rain in North Texas have perhaps overdone it. We're getting flash floods and the wettest May in many years.  To the south of us,  areas that were very dry are now experiencing the flooding of the San Marcos and Blanco Rivers.  Parts of the area have received more than 1-1/2 feet of rain since May 1, six times what it typically receives in all of May.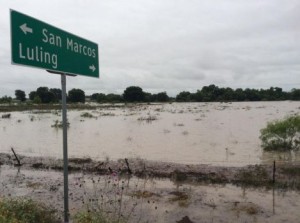 Flooded San Marcos River, May 24, 2015. Click for larger view.