---
Posted
October 24th, 2014
Maryland poultry farms fined for reporting lapses
by Timothy B. Wheeler

 Poultry "litter," a mixture of bird manure and wood shavings, is periodically removed from chicken houses. Growers with large flocks are required to report annually on what they do with the waste.
Nearly one in five large Maryland chicken farms has been fined recently, state regulators have disclosed, because the growers failed to file information required annually outlining what they did to keep their flocks' waste from polluting the Chesapeake Bay and its tributaries.
Since July 1, the Maryland Department of the Environment has issued notices of violation to 104 of the state's 574 "animal feeding operations." Those are farms that are regulated like factories because of the large volumes of manure generated by raising 37,500 or more birds at a time.
Of those sent violations notices, 89 were fined $250 each for submitting incomplete reports, according to Jay Apperson, a department spokesman. The other 15 received $500 fines for not reporting anything, he said.
The reports, required once a year, spell out how much waste was generated, how it was stored to keep rainfall from washing it into nearby waterways, and what was ultimately done with it. The waste is often spread on fields to fertilize crops, either on that farm or elsewhere.
The fines represent a new, tougher stance by the state. Until recently, regulators say, they have sought to cajole and work with growers to comply with the paperwork requirements of five-year-old regulations that many farmers bitterly opposed — and still don't think are warranted.
"This is the first time we're reaching out in enforcement," said Hillary Miller, deputy director of MDE's land management administration. "They really don't get sent these notices until we've tried and tried and tried to get these reports worked out with them."
The farmers cited had more than a year to catch up, as the citations issued in recent weeks are for failure to submit required information due in March 2013.
Miller said some of the growers' problems may have stemmed from confusion over a change in reporting requirements that was actually intended to ease their paperwork burden. Officials directed farmers to start reporting on one form information they used to have to submit in two separate filings, she said.
By comparison, in the previous year, five animal-feeding operations were cited for significant violations of state regulations and 34 for minor infractions, according to data on MDE's web site.
The recent spike in enforcement activity comes as the state moves to renew for another five years its permitting requirements for "animal feeding operations," the vast majority of them chicken-growing operations on the Eastern Shore.
State officials say they're proposing mainly minor changes to what regulated farms would have to do, and that the requirements in the new "general discharge permit" are at least as stringent as those now in force.
One proposed change is aimed at easing a backlog in processing growers' permits, dropping a requirement they submit a "comprehensive nutrient management plan" spelling out waste handling and conservation measures on their farms.  A shortage of consultants qualified to prepare those plans has led to lengthy delays in completing farmers' permit applications. Under the new state permit, officials say, farmers could instead submit two other plans they have to prepare which contain essentially the same information.
Another change would ease a requirement for the vast majority of growers to make weekly inspections of their manure storage facilities to ensure rainfall and snow melt can't carry waste into nearby ditches and streams. The small number of farmers with large cattle, dairy or hog herds would still have to make weekly checks of liquid manure impoundments to see that they're not leaking. But poultry growers with sheds storing "dry" bird litter — manure mixed with wood shavings — would only have to inspect them once a year under the new state rules.
Poultry industry representatives and advocates for farmers have urged the state to drop other requirements, including a new provision allowing regulators to mandate additional runoff control measures if officials decide the existing ones aren't doing enough to prevent pollution.
"It's not fair to change the rules during the game," Bill Satterfield, executive director of Delmarva Poultry Industry Inc., argued in a letter to MDE. He contended for the sake of growers, any changes found later to be needed should be postponed until the next scheduled renewal of the permit in five years.
Growers and industry representatives also are pressing the state to forget about charging permitting fees, arguing that they're a hardship and unnecessary.
The state's existing regulations call for growers to pay $250 to $1,200 a year, depending on the size of their operation. In a bid to get farmers to comply with the new permitting requirement five years ago, state officials waived collecting the fees. The new rules still call for fees, and MDE spokesman Apperson said the agency is weighing public comments on whether to collect them this time around.
Colby Ferguson, government relations director for the Maryland Farm Bureau, said growers still think the permits and regulatory oversight are unnecessary. But as long as they don't have to pay for the extra paperwork, he said, they can basically live with it.
"We're complying with it, we're going through the process. It's working," said Ferguson. "Having the fees waived makes it more amenable and more digestible."
Environmental advocates contend the state shouldn't exempt poultry growers from paying for the costs of overseeing their operations, as permitting fees are routine in almost all other regulated industries. The fees would generate about $400,000 over five years a year, they estimate, money sorely needed by an agency that has seen its overall workload expand without commensurate increases in budget or staff.
Agricultural runoff is the largest single source of nutrient and sediment pollution fouling the bay, environmentalists point out. And animal farms in Maryland produce enough manure in a year to fill Ravens stadium twice, said Samantha Kappalman, a spokeswoman for the Maryland Clean Agriculture Coalition, a collection of environmental groups.
Rena Steinzor, president of the Center for Progressive Reform, argued that MDE is showing favoritism to the poultry industry by not charging fees, when the agency requires some environmental groups to pay to see documents they're entitled to under the state Public Information Act.
"These are basically groups that represent the average citizen," she said. "And they're letting [animal feeding operations], which are businesses, not pay the most nominal of fees, which were authorized by the legislature to support MDE's work."
But Horacio Tablada, MDE's land management administrator, said whatever other budget restraints the agency has, officials have seen that the animal-feeding oversight is adequately funded. State officials say they're are able to inspect about 20 percent of the regulated farms annually.
Delaware and Virginia do not charge permitting fees for regulating large animal-feeding operations. Pennsylvania does not charge fees under its general permit, either, according to a spokeswoman for the state Department of Environmental Protection. But for larger operations or those draining into sensitive water ways, there are fees ranging from $200 to $1,500, she said.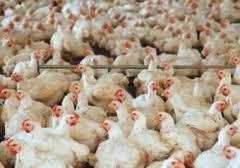 Factory raised chickens put out amazing amounts of feces and a good portion of this makes its way into water.
Source: The Baltimore Sun.