Plastics in the Deep Ocean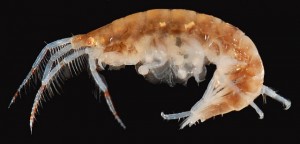 Plastic-eating amphipods consume plastics in the deepest ocean waters
Plastic litter is now virtually inescapable throughout every crevice of the world's oceans, and a newly published study finds, for the first time, that the creatures living in the deepest, most remote environs on Earth are eating it in startling amounts.
A British research team captured amphipods, tiny shrimp-like crustaceans that scavenge on the seabed, from six of the world's deepest ocean trenches and took them back to their lab. There, they discovered that more than 80 percent of the amphipods had plastic fibers and particles in their digestive systems, known as the hindgut.
The deeper the trench, the more fibers they found. In the Mariana Trench, the deepest at more than seven miles beneath the waves in the western Pacific, the scientists found fibers in 100 percent of the samples–in every amphipod collected.
Prior studies of plastic particles ingested by marine organisms caught near the surface have found far smaller percentages.The new research, published in the journal Royal Society Open Science, adds new details to earlier research that only discovered plastic bits in sea floor sediment in 2014 and fleshes out the picture shaping up of ocean trenches as the final sink for marine debris.
That is not good news. Once the plastic particles sink to the deep sea, they've got nowhere else to go.
"If we could magically snap our fingers over 10, 20, 50 years time and stop making plastic, what would happen to the plastic in the river? It would flush and wash out," says Alan Jamieson, a marine biologist at Newcastle University and the study's lead author. "The coastlines would dilute and disperse. In the open ocean, the UV and wave action would act on that plastic and the surface would be clean again. What happens when you get to the deep sea, there's no dispersal or flushing. It's only going to get more and more and more."
He adds: "This is not a one-off find. The Pacific Ocean covers half the planet. Our study sites were off Japan and Peru and Chile in places separated by thousands of miles. We can now say with confidence that plastic is everywhere. Let's not waste our time looking for more. Let's concentrate our efforts on what it is actually doing."