---
Posted
February 12th, 2019
Widespread PFAS Contamination Around Georgia Military Bases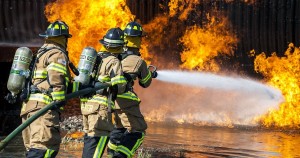 The Military Times reports widespread PFAS contamination of water in the area of Gerogia military bases as the result of years of use of firefighting foam. Nationwide, the Air Force has acknowledged contaminating drinking water in communities close to its bases in more than a dozen other states.
In Georgia, Dobbins Air Reserve Base in Cobb County, Robins Air Force Base in Houston County and Moody Air Force Base in Lowndes County used the firefighting foam in training exercises and to put out fires when planes crashed. The foam also sometimes leaked out of its storage tanks, the Journal-Constitution reported. Thousands of gallons of foam soaked into the ground or washed into creeks and wetlands, killing fish and imperiling those who use the affected waterways for fishing, swimming and boating, the newspaper reported.
The contamination, which is linked to a class of chemicals known collectively as per- and polyfluoroalkyl substances, or PFAS, was laid out in a series of site inspection reports completed by the Air Force last year.
Of particular interest in this context is the EPA's recent decision to not establish regulatory limits on PFAS. This ruling allows the military to disclaim responsibilty for contamination of drinking water in the areas surrounding bases. In a statement, the Air Force said its response is constrained by a lack of regulation for PFAS chemicals. The two that are the focus of most testing are known as PFOS and PFOA.
"Because PFOS/PFOA are unregulated and Georgia or federal entities have not established standards for non-drinking water sources, we cannot expend government resources on those water sources," the Air Force said.
Reference: Military Times