---
Posted
November 19th, 2012
The EPA Has Launched A Program, SepticSmart, To Help Homeowners Care for Their Septic Systems
According to the U.S. Census Bureau, nearly 25 percent of U.S. households—more than 26 million homes—and almost one-third of new developments are serviced by septic systems.  If properly built and properly maintained, a septic system can provide years of trouble-free and environmentally safe disposal of wastewater and sewage for a home.
A septic system typically consists of a septic tank and a drain field for the absorption of wastes.   The picture below from the EPA's website  shows a standard septic setup: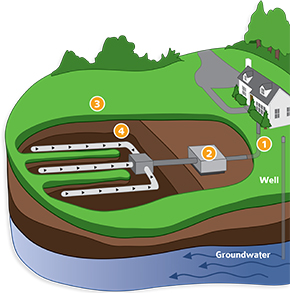 Here's how it works:
To aid septic tank owners, the EPA recently launched is "SepticSmart" program to promote proper septic system care and maintenance. This national program aims to educate homeowners about proper daily system use and the need for periodic septic system maintenance.  SepticSmart also provides industry practitioners, local governments and community organizations with tools and materials to educate their clients and residents.
Here are some basic tips from SepticSmart:
Spread out laundry and dishwasher loads throughout the day. Consider fixing plumbing leaks and installing faucet aerators and water-efficient products. Too much water use at once can overload your system, particularly if it hasn't been pumped in the last couple of years.
Avoid pouring fats, grease and solids down the drain, which can clog your system.
Homeowners should have their septic system inspected every three years by a licensed contractor and have their tank pumped when necessary, generally every three to five years. Regular inspection and pumping of a septic system can save homeowners from costly repairs—on average, it costs homeowners $250 to pump their septic system, while the average cost of replacing a conventional septic system is $5,000 – $10,000. As the holidays approach, consider having your tank inspected and pumped.
Ask guests to only to put things in the toilet that belong there. Dental floss, disposable diapers and wipes, feminine hygiene products, cigarette butts, and cat litter can clog and potentially damage septic systems.
Remind guests not to park or drive on your system's drainfield because the vehicle weight could damage buried pipes or disrupt underground flow causing system backups and floods.
For more information, visit www.epa.gov/septicsmart.