---
Posted
October 26th, 2013
Nuns argue fracking is a habit we can't afford
By Nicole Hasham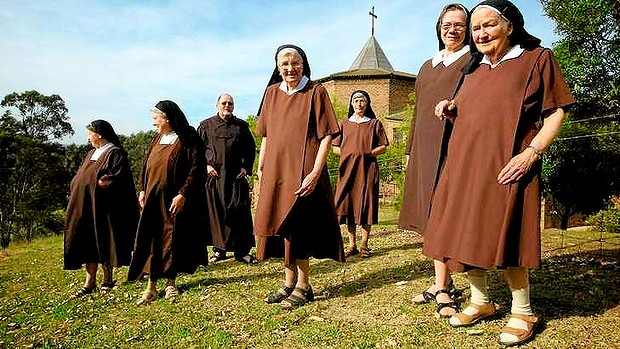 "It's not sensible to exploit the resources now and not bother what effect that might have for future generations."
Theirs is a cloistered, holy life far from the whirl of Sydney, where the only sound some mornings is the flap of habits and the squawk of cockatoos.
And if nothing is more God-like than silence, what do the Discalced Carmelite nuns and friars of Varroville, near Camden, think of the prospect of coal seam gas drilling across NSW?
"To me it appears to be a slash and grab approach, get rich quick and – pardon this use of language – but to hell with the consequences," Sister Jocelyn Kramer said.
"It's not sensible to exploit the resources now and not bother what effect that might have for future generations."
New state government rules on coal seam gas, including a two kilometre no-go zone around residential areas, came into force this month, thwarting moves by gas company AGL to drill for coal seam gas near thousands of homes in south-west Sydney, including a property next to the Carmelites' monastery. But the new rules do not affect approved projects – including an AGL gasfield near Gloucester, bringing wells 300 metres from homes, and Santos' Pilliga venture in the state's north-west.
Industry Minister Ian Macfarlane last month moved to accelerate the industry in NSW and break the deadlock between the state government, farmers and gas companies, saying a gas shortage was looming and he wanted drill rigs going "before Christmas".
Sister Jocelyn, who has spent hours trawling through scientific reports and planning documents, said the effects of coal seam gas activity may extend further than two kilometres and the science behind the exclusion zones should be made public.
"When you are drilling underground, you really don't know what effects you're having in terms of subsidence, vibration, groundwater, soil … those are significant issues which our faith has something to say about," Sister Jocelyn said.
"God created the world with integrity and beauty so that each part is interconnected. A little effect here will have another effect there."
The Carmelites' concerns are shared by North Sydney's Sisters of St Joseph, who say the government should protect sensitive water catchments – a view backed by the Sydney Catchment Authority.
With its new rules in place, the state government will "fully support mining proposals which are in the right places" and pass a "rigorous" assessment. AGL argues that coal seam gas is a low-impact, low-risk industry which can "comfortably coexist with other land uses" – but the love-thy-neighbour sentiment is not always returned.
"You'd have to love the people but not the operation," Sister Jocelyn said.
"The institutions are human, and flawed in various ways. You have to uphold values that some people don't pay a lot of attention to, and question the pursuit of wealth at all cost."
heirs is a cloistered, holy life far from the whirl of Sydney, where the only sound some mornings is the flap of habits and the squawk of cockatoos.