New York in 200 Years?
adapted from Rising Seas by Tim Folger.
 Why the Seas Rise
Locally, sea level can rise because the land is sinking. Globally, it rises because the total volume of seawater is increasing. Global warming drives that in two basic ways: by warming the ocean and by melting ice on land, which adds more water. Since 1900 global sea level has risen about eight inches. It's now rising at about an eighth of an inch a year—and accelerating.
Unless we change course dramatically in the coming years, our carbon emissions will create a world utterly different in its very geography from the one in which our species evolved. "With business as usual, the concentration of carbon dioxide in the atmosphere will reach around a thousand parts per million by the end of the century," says Gavin Foster, a geochemist at the University of Southampton in England. Such concentrations, he says, haven't been seen on Earth since the early Eocene epoch, 50 million years ago, when the planet was completely ice free. According to the U.S. Geological Survey, sea level on an iceless Earth would be as much as 216 feet higher than it is today. It might take thousands of years and more than a thousand parts per million to create such a world—but if we burn all the fossil fuels, we will get there.
No matter how much we reduce our greenhouse gas emissions, Foster says, we're already locked in to at least several feet of sea-level rise, and perhaps several dozens of feet, as the planet slowly adjusts to the amount of carbon that's in the atmosphere already. A recent Dutch study predicted that the Netherlands could engineer solutions at a manageable cost to a rise of as much as five meters, or 16 feet. Poorer countries will struggle to adapt to much less. At different times in different places, engineering solutions will no longer suffice. Then the retreat from the coast will begin. In some places there will be no higher ground to retreat to.
By the next century, if not sooner, large numbers of people will have to abandon coastal areas in Florida and other parts of the world. Some researchers fear a flood tide of climate-change refugees. "From the Bahamas to Bangladesh and a major amount of Florida, we'll all have to move, and we may have to move at the same time," says Wanless. "We're going to see civil unrest, war. You just wonder how—or if—civilization will function. How thin are the threads that hold it all together? We can't comprehend this. We think Miami has always been here and will always be here. How do you get people to realize that Miami—or London—will not always be there?"
What will New York look like in 200 years? Klaus Jacob, the Columbia geophysicist, sees downtown Manhattan as a kind of Venice, subject to periodic flooding, perhaps with canals and yellow water cabs. Much of the city's population, he says, will gather on high ground in the other boroughs. "High ground will become expensive, waterfront will become cheap," he says. But among New Yorkers, as among the rest of us, the idea that the sea is going to rise—a lot—hasn't really sunk in yet. Of the thousands of people in New York State whose homes were badly damaged or destroyed by Sandy's surge, only 10 to 15 percent are expected to accept the state's offer to buy them out at their homes' pre-storm value. The rest plan to rebuild.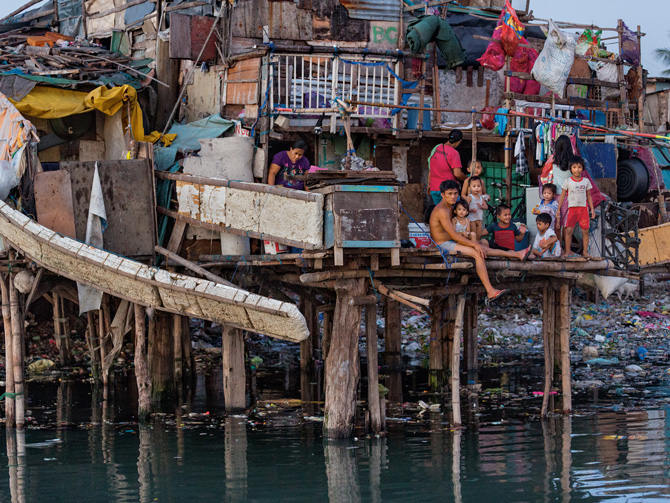 This isn't an artist's vision of what New York will look like in 2210.  It is a photo of present-day Manila where the rising sea keeps nibbling away at the waterfront homes of the poor.
Source:  National Geographic.