New 4.5″ X 20″ Cartridges
The MatriKX PB1 and Chloraguard Carbon Blocks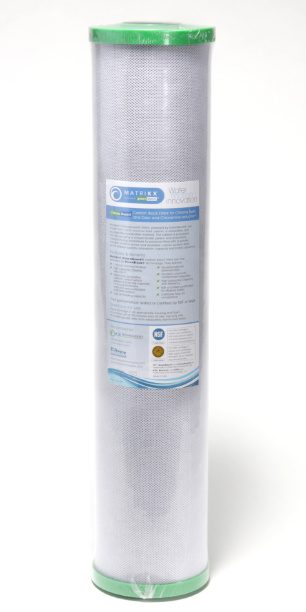 MatriKX Chloraguard extruded carbon block filter, for removal of chloramine, chlorine, PFAS, VOCs, and chemicals in general. Made with coconut shell catalytic carbon. Nominal 1 micron filtration.
We're happy to announce that we have added two major MatriKX Coconut Shell Carbon Block cartridges to our 4.5″ X 20″ cartridge offerings.  These cartridges, the PB1 and Chloraguard, fit our popular "Compact Whole House" filter series and they will fit any filter housing that accepts 4.5″ X 20″ cartridges.Both are high quality coconut shell carbon block filters. The PB1 targets lead and cyst removal and the Chloraguard is built to be especially effective at reducing chloramines in city water. Both also are tested and recommended for treatment of VOCs and PFAS.
PB1
The PB1 is a larger version of MatriKX's popular lead removal cartridge that we've used for many years in our drinking water filters. We now stock it in all four popular standard sizes– 2.5 X 9.75, 2.5 X 20, 4.5 X 9.75, and 4.5 X 20.  The 4.5 X 20 version is rated for chlorine, chloramine, PFAS, and VOC reduction, as well as for Lead and Cyst Reduction. A word of caution for whole house filter users.  This is the most restrictive carbon block we offer. The manufacturer rates it at 14 psi pressure drop at 7 gpm. This is double the pressure drop of other MatriKX cartridges in this size.
Here are the basics for the PB1.
Lead: 25,000 @ 5 gpm,
Chlorine:240,000 @ 7 gpm,
Chloramine: 12,000 @ 3 gpm,
PFAS: 18,000 @ 3 gpm,
VOC: 3,000 @ 2 gpm
Chloraguard
The Chloraguard uses coconut shell catalytic carbon and is specialized for chloramine reduction. It is also tested and rated by the manufacturer for VOC, PFAS, and a whopping 360,000 gallons of chlorine reduction. Pressure drop is only 7 psi at 7 gpm. 
Manufacturer's specific on the Chloraguard:
Chlorine: 360,000 @ 7 gpm,
Chloramine: 21,000 @ 3 gpm,
PFAS: 21,000 @ 3 gpm,
VOC: 4,500 @ 2 gpm,
You can get much more information about these cartridges from our website.  Note that at the bottom of our web pages there are links to the manufacturer's spec sheets.