MatriKX Cartridges Are Now Certified for Reduction of PFAS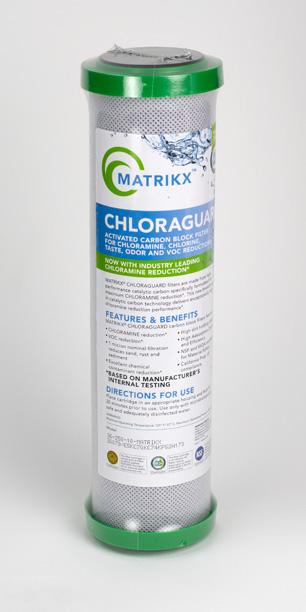 The MatriKX Chloraguard drinking water cartridge pictured above is now rated to treat an incredible 45,000 gallons of chlorine, 4,000 gallons of chloramine, 3,500 gallons of PFAS, and 750 gallons of VOC.
When we started building our Model 77 Countertop Filter around 1990, the standard cartridge for the unit was the MatriK KX-1.  The KX-1 was a really good cartridge. It was a bituminous coal based carbon block that boasted 20,000 gallons of chlorine capacity. The manufacturer's advertising line called it "The Chlorine Guzzler." We used the KX-1 in the Model 77 countertop as well as our Black and White series undersink filters and RO units. Over the 30 plus yeas that we've been using the cartridge it has been reformulated and renamed a few times. It is now called CTO Plus.
The CTO Plus is now made with coconut shell carbon. The chlorine capacity has gone up to 30,000 gallons (not that you would every use it that long) and it now has a 750 gallon capacity rating for VOC reduction. VOCs, "volatile organics," are a challenge, and 750 gallons is something to brag about. Chloramines are also a challenge. The new spec sheet for the cartridge now shows its certification at 2.000 gallons capacity for chloramines, as well as 3,500 for the difficult "forever chemicals" known as PFAS.
All four of the basic MatriKX cartridges now have certification for chloramine reduction and all but the standard CTO make claims for VOC reduction. All four are now made with coconut shell carbon and all are manufactured with the latest and most advanced technology. (This is important. Not all carbon block filters are created equal. Much of their effectiveness depends on the processing of the carbon and the binders used.)
The manufacturer's fact sheets for the four basic cartridges can be found on our website.  Links are below. Performance data is given for the four basic standard filter sizes–from drinking water to whole house.
PB1 – Lead/Cyst Removal Carbon Block.
Below is a comparative breakdown of the four basic styles in the drinking water size only.  The summary tells you that you do not need a six stage filtration unit to get superb performance.  To illustrate, our standard double undersink filter, which uses the MatriKX PB-1 and the MatriKX CTO Plus,  provides 60,000 gallons of treatment of chlorine,  4,000 gallons of chloramine, 6,500 gallons of PFAS, 1,250 gallons of VOC, 3,750 of lead, plus protection against cysts.  It is generally recognized that a carbon filter that removes VOCs (which are very difficult to treat) also offers protection against the literally thousands of chemicals and pharmaceutical products for which no testing is done.
MatriKX Summary Sheet – 9.75" X 2.75" Cartridges
MatriKX Cartridge

Performance Summary

MatriKX PB1

Coconut Shell Carbon Block. Nominal 0.5 Micron

PWP Part FC004

Chlorine Removal : 30.000 gals. @ 1 gpm

Chloramine Removal: 2,000 gals. @ 0.5 gpm

PFAS Removal: 3,000 gals. @ 0.5 gpm

VOC Removal: 500 gals. @ 0.5 gpm

Lead Removal: 3,750 gals. @ 0,75 gpm

Cyst Removal:Yes, for life of cartridge

MatriKX CTO

Coconut Shell Carbon Block. Nominal 5 Micron

PWP Part FC003

Chlorine Removal : 12,000 gals. @ 1 gpm

Chloramine Removal: 1,000 gals. @ 0.5 gpm

PFAS Removal: 3,250 gals. @ 0.5 gpm

VOC Removal: Not Rated

Lead Removal: No.

Cyst Removal: No.

MatriKX CTO PLUS

Coconut Shell Carbon Block. Nominal 1 Micron

PWP Part FC001

Chlorine Removal :30,000 gals. @ 1 gpm

Chloramine Removal: 2,000 gals. @ 0.5 gpm

PFAS Removal: 3,500 gals. @ 0.5 gpm

VOC Removal: 750 gals. @ 0.5 gpm

Lead Removal: No

Cyst Removal: No

MatrikX Chloraguard

Coconut Shell Carbon Block. Nominal 1 micron

PWP Part FC040

Chlorine Removal : 45,000 gals. @ 1 gpm

Chloramine Removal: 4,000 gals. @ 0.5 gpm

PFAS Removal: 3,500 gals. @ 0.5 gpm

VOC Removal: 750 gals. @ 0.5 gpm

Lead Removal: No

Cyst Removal: No