---
Posted
October 21st, 2014
London "Super Sewer" Approved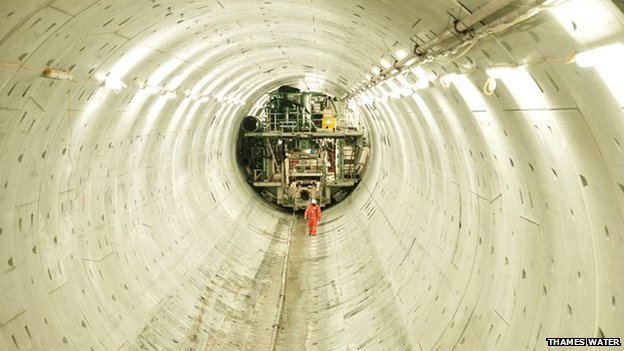 The Thames Tideway Tunnel will be 15 miles long.
The Government has given the go-ahead to start building London's 'super sewer' which will tackle the sewage pollution in to the tidal River Thames.
The 25km tunnel will run underground from Acton storm tanks in West London, and travel roughly the line underneath the river to Abbey Mills Pumping Station in East London, where it will connect to the Lee Tunnel.
The sewage collected from the 34 most polluting discharge points along the tidal river in Central London, will then be taken via the Lee Tunnel to Beckton sewage works for treatment.
Last year, 55 million tonnes of sewage polluted the tidal River Thames, far higher than the average 39 million tonnes that discharges in a typical year.
This was due to the exceptionally wet weather, which caused the combined sewerage system that London has, collecting rain water and sewerage water from drains, to fill up and pour into the river even more than normal.
With the weather of 2014 already proving to be wetter than a typical year, the amount of sewage which is going into the river is likely to once again be above average.
Andy Mitchell, Chief Executive of Thames Tideway Tunnel, said: "If the tunnel had been in operation last year, it would have captured 97% of the sewage that poured in to London's river. Hardly a week goes by when untreated sewage is not pouring in to London's river and we are pleased that we can now start to tackle this archaic problem.
"This is a huge project but it's a huge problem, and we can now get on with tackling it. It's no easy task, but we're confident that we can deliver this project and still achieve our aim of minimising the impact on our customer bills."
The Thames Tideway Tunnel will take seven years to build, and main construction can now start in 2016 as planned.
Source: Stormwater.
Pure Water Gazette Fair Use Statement