---
Posted
October 28th, 2019
EPA Proposes New Regulations For Lead In Drinking Water
  by Paolo Zialcita
This is a National Public Radio news report, issued in late October 2019.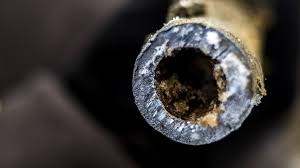 The Environmental Protection Agency has announced a new proposal that would change how communities test for lead in drinking water. It's the first major update to the Lead and Copper Rule in nearly 30 years, but it does not go as far as many health advocates had hoped.
The regulations are aimed at stopping people's water from being contaminated through lead pipes that connect public water supplies to homes. The EPA's website points out that ingesting lead "can be harmful to human health even at low exposure levels."
The proposal that was announced Thursday would require water systems to keep a public inventory of where those lead service lines are and help homeowners replace them if their water is found to be contaminated with lead.
If a water test shows dangerous lead levels, utilities would also have to notify their customers within 24 hours.
"By improving protocols for identifying lead, expanding sampling, and strengthening treatment requirements, our proposal would ensure that more water systems proactively take actions to prevent lead exposure, especially in schools, child care facilities, and the most at-risk communities," EPA Administrator Andrew Wheeler said.