Gazette's Famous Water Picture Series: The Lake Berryessa Glory Hole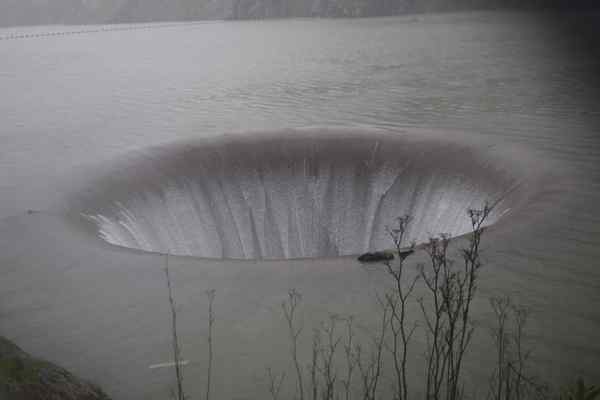 Lake Berryessa Glory Hole
Lake Berryessa is the largest lake in Napa County, California. The reservoir in the Vaca Mountains is formed by the Monticello Dam, which provides water and hydroelectricity to the North Bay region of the San Francisco Bay Area.
What you see in the picture is the dam's spillway, which because of California's drought had not overflowed for a long, long time. After a drought-ridden 10-year period, in February of 2017 water finally spilled into Lake Berryessa's Glory Hole, bringing an end to the longest gap between spills in the lake's history.
The Glory Hole is near the dam on the southeast side of the reservoir. It is an open bell-mouth spillway, 72 feet in diameter. The pipe has a straight drop of 200 feet,  and the diameter shrinks down to about 28 feet. The spillway has a maximum capacity of 48,000 cfs (cubic feet per second).  One cubic foot per second is about 450 gallons per minute, so the Glory Hole's capacity to drain the lake is about 21 million gpm.  The spillway operates when there is excess water in the reservoir. In 2017 after heavy rains it started flowing, for the first time since 2006.
In 1997 a woman was killed after being pulled inside the spillway.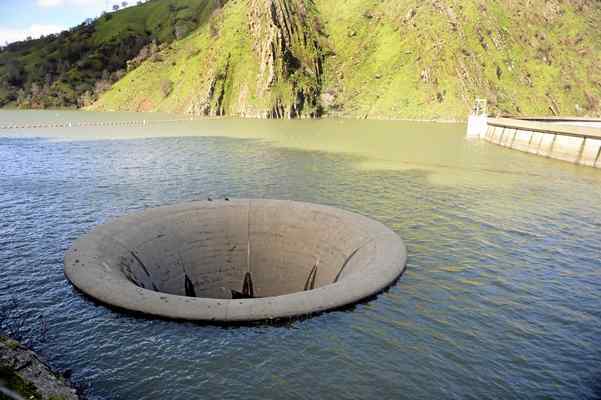 The Glory Hole when it isn't overflowing