---
Posted
September 15th, 2013
Choosing a Countertop or Undersink Drinking Water Filter
by Gene Franks
Standard vs . Proprietary
If you purchase a water filter with a "proprietary" design, you won't have to choose a filter cartridge for it because the filter manufacturer has chosen it for you. In other words, if you purchase an Aquasana, you have only one cartridge choice: the standard Aquasana. If you purchase a Multi-Pure filter, Multi-Pure has already decided which cartridge you will use: the standard Multi-Pure.
Aquasana and Multi-Pure provide you exactly the same cartridge whether you have city water with chlorine or with chloramines or whether your city fluoridates its water or not. If your well water has a rotten egg odor, if it has sand, or silt, or iron, or nitrates, or bacteria, with Multi-Pure and Aquasana it's all the same: you'll get the same filter cartridge you would get if you lived in Cleveland or Tucson.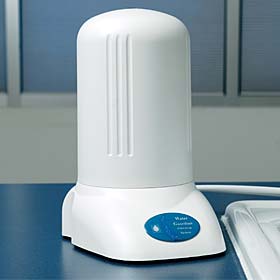 Proprietary Countertop.  Price: $260. Replacement Cartridge Price: $70.  Cartridge Styles Available: 1.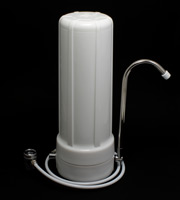 Standard Sized Countertop.  Price: $77. (With Lifetime Guarantee). Standard Cartridge Replacement Price: $21. Cartridge Styles Available:  Countless.  
If, however, you purchase a water filter that uses a standard-sized 9.75" X 2.5"cartridge, you have literally hundreds of excellent filter cartridges to choose from. Moreover, if you bought your filter from Sterling Springs, you can replace the cartridge with one purchased from Pure Water Products. Or vice versa.
Standard sizes got to be standard for a reason. They are a convenient and practical size that offers good performance in a compact package.
The variety of filter cartridges available in the standard 9.75" X 2.5" format is amazing. Every major filter cartridge manufacturer provides filter cartridges in this size.
In addition, with standard-sized units you have the option of multiple cartridges. Standard-sized housings can be easily joined to form multi-canister units. Multiple housings, of course, allow cartridges to be mixed and matched to created a total filtration unit with much more capacity and treatment range than is possible with a one-size-fits-all proprietary unit.
Here are some examples of the excellent cartridges available for standard sized-filters:
MatriKX CTO Plus carbon block, rated for 20,000 gallons of chlorine reduction, it's a great filter for chlorine, chloramines, VOCs, chemicals in general, plus excellent taste/odor performance. A very tight nominal 0.6 micron filter.
MatriKX VOC. A tight 0.6 micron coconut shell carbon block. Designed for overall performance on chlorine and chemicalsd, but is especially good at VOC reduction.It's a great taste/odor enhancer as well.
MatriKX PB1. A great one-cartridge drinking water filter, it is a tight 0.5 micron carbon block (too tight for use in reverse osmosis units) with lead reduction and cyst removal capability.
Doulton Super Sterasyl Imperial. An oversized-Doulton ceramic cartridge with a carbon core, this is one of several Doulton cartridges made to fit standard housings. Its strong point is removal of bacteria and cysts, but it's also a good all-around chemical filter. While Doulton undersink and countertop units command a premium price, the regular-sized cartridges can fit into any standard housing.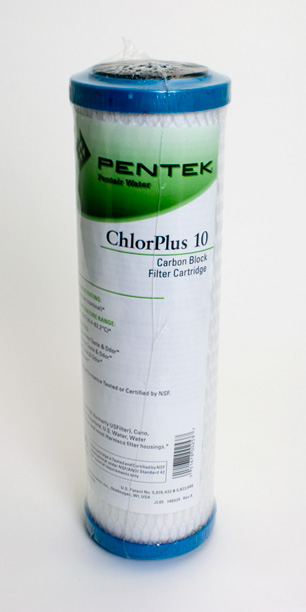 Pentek ChlorPlus 10. A tough Pentek carbon block made with specialty carbon aimed toward removal of chloramines from city water, the cartridge has excellent all around carbon performance for taste/odor and chemical reduction.
In addition to carbon cartridges, there are many standard-sized "media" cartridges that treat nitrates, fluoride, arsenic, iron, rotten-egg odor, low pH, scale buildup, hardness, high TDS and more.
Another important consideration in deciding between standard vs. proprietary units is pricing. Standard sizing, of course, means competition, which keeps pricing fair. It is not uncommon for a high quality 9.75" X 2.5" carbon block cartridge to cost ¼ the price of a propriety cartridge.