One California drought winner? The local car wash.
by Lauren Sommer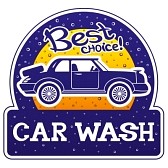 Editor's Note.  How Drought Affects Businesses.  The California drought has had a devastating effect on some businesses.  Pool, contractors,  for example.  Although in the long term, a backyard pool probably usually uses less water than a conventional lawn, in the short term it's hard to justify filling a large pool that could be better used for drinking and general household purposes. (See "A California drought loser: Pool Contractors." )  One business that's done well, however, is the local car wash.–Hardly Waite.
It's gotten a lot tougher for Californians to ignore the state's drought. Mandatory water restrictions have kicked in, aiming to cut use by an average of 25 percent statewide. To meet those cuts, water utilities are imposing new rules about what Californians can and can't do with water. Some industries are enjoying a boost in business as a result.
"I'm sure in summer we'll see an influx in business, which is great," says Jeff Wheeler of AJ Auto Detailing in San Jose, where his crew was pressure-washing a row of cars.
Just a month ago, the San Jose City Council passed drought rules that most car washing businesses could only dream of: if you live in San Jose, you're no longer allowed to wash your car at home with potable water. Commercial car washes are okay, because most recycle water.
"A customer came in the other day and he brought his truck," says Jeff's brother, Jordan Wheeler. "He has a big yard and he has tractors and stuff, and he says he was washing off a couple of his tractors and a neighbor complained and called the police on him."
Washing cars at home is still allowed by most California water agencies, if residents have a shutoff nozzle on their hose. But San Jose has banned it with or without a nozzle because the city is aiming to cut water use by 30 percent.
Jeff Wheeler says his carwash has an added selling point: it's extra water efficient.
"How this all starts is, there's multiple pumps," Wheeler says, pointing to his water recycling system. Water flowing off the cars is recaptured, filtered and put into large tanks. Each gallon is reused four to five times, which saves a lot of water.
"We're actually only using about 2 to 2.5 gallons per car and that's less than a dishwasher uses," Wheeler says.
That saves as much as 100 gallons over what a home car wash uses, but overall, it's a drop in the bucket compared to what lawns need — so why single out car washing?
"As agencies are trying to meet some of the restrictions, in some cases up to 36 percent, they're going to have to cut a lot of things," says Heather Cooley of the Pacific Institute, a water think tank in Oakland. "And so every bit is going to help."
On the other hand, water districts that have already cutback have been given lower conservation targets by the state, down to eight percent. In those areas, some drought rules are in place to simply get the public's attention, like the one that prevents restaurants from serving water unless customers ask for it.
"It's showing people that we are in a drought," Cooley says. "That we need to be thinking about all the different ways we use water."
By making everyday Californians feel the pain, he says, they're more likely to step up and make lasting changes, like putting in drought-friendly landscaping.
"In every city, lawns are sort of standard when a new area is put in, when a street median is put in," she says. "And so that has to change and this drought, I think, is really going to drive that change."
More permanent changes will pay off by saving water during the next drought — which Cooley says are definitely in California's future.