Pure Water Annie's Glossary of Common Water Treatment Abbreviations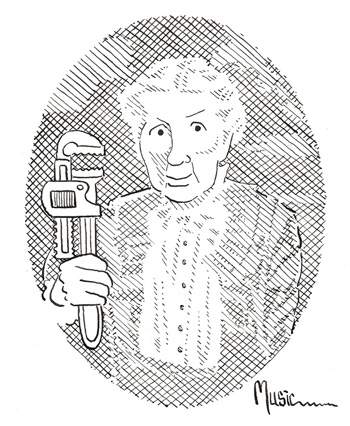 by Pure Water Annie
Like most professions, the water treatment industry runs on initials. Here are a few of the essential ones.
Reprinted from the Pure Water Occasional for October 2011
ANSI – American National Standards Institute. ANSI sets the standards by which organizations alike NSF and WQA certify water treatment products. For a full explanation, see "ANSI/NSF: What's It All About?" in an earlier Occasional
DI – De ionization. An ion exchange process that removes virtually all the mineral content of water.
DBP – Disinfect ion by-product. Disinfect ion by-products are potentially toxic chemical compounds that are formed in extremely low concentrations during the disinfection of water supplies. Most often, they are the by-product of chlorination.
EPA – Environmental Protection Agency. See the full article below.
GAC – Granular Activated Carbon. Carbon prepared by a special process for water treatment.
GPD – Gallons Per Day.
GPG – Grains Per Gallon.
GPM – Gallons Per Minute.
MF – Microfiltration. Describes membrane filtration usually between the sizes of 0.1 to 10 microns (µm). It is often distinguished from nanofiltration and reverse osmosis by the fact that it does not require pressure (although pressure is often applied).
NSF – National Sanitation Foundation. A leading "third party" certifying agency for water treatment equipment. For a full explanation, see ANSI/NSF: What's It All About? in an earlier Occasional. 
OEM – Original Equipment Manufacturer. (A term that is vague and widely misunderstood within and outside the water treatment industry. In water treatment parlance it means essentially "anyone who puts stuff together or simply buys stuff from another source and sells it to somebody else for resale to the public.")
ORP – Oxidation-reduction potential. A measurement of the electrical potential of water for the oxidation-reduction process to occur.
PPB – Parts per billion. One ppb represents one microgram of something per liter of water. See ug/l.
PPM – Parts per million. Same amount as Mg./l. (milligrams per liter).
POE – Point of entry. Used to describe treatment devices that treat all the water entering a building. A "whole house filter."
POU – Point or use. Used to describe treatment devices that treat water at the point of use only. An undersink filter is an example.
PVC – Polyvinylchloride.
RO – Reverse Osmosis.
SDWA. Safe Drinking Water Act of 1974. See EPA article below.
TAC – Template Assisted Crystallization. A technique of scale control used as an alternative to conventional water softening.
TDS – Total Dissolved Solids. Measurement of all "solids" (minerals or salts) dissolved in water.
TOC – Total Organic Carbon. The total amount of carbon bound in a water sample.
UF – Ultrafiltration. Crossflow filtration method that operates between microfiltration and reverse osmosis, between the 0.002 and 0.1 micron range.
UG/L – Microgram per liter. One ug/l is the same as 1 ppb (part per billion.)
UV – Ultraviolet. Water treatment for microorganisms.
VOC – Volatile Organic Compounds. Organic chemicals that turn to vapor at a relatively low temperature.
WQA – Water Quality Association. The leading trade organization for water treatment professionals.
ZZZ– Sound made by people who read too many definitions of water treatment terms.
See also Pure Water Annie's Glossary of Water Treatment Terms on the Occasional's website.