---
Posted
September 27th, 2016
Scientists are protesting the damming of "the last big, wild river in Europe outside Russia"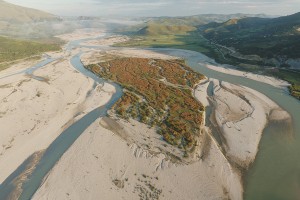 The Vjosë, the last big, wild river in Europe outside Russia, is in danger of being dammed
"A developing country cannot be a museum."
Europe's last wild river is about to be tamed. But it won't go without protest.
More than 200 scientists from 33 countries  called for the Albanian government to halt plans to construct the first dam on the Vjosë, which flows out of northern Greece through remote Albanian mountain canyons to the Adriatic Sea.
Scientists say the river is of "global significance," particularly for birds that breed on the huge islands downstream of the proposed 25-metre-high dam at Poçem. Once completed, the dam will dictate flows downstream according to electricity demand rather than the needs of river ecosystems.
"The Vjosë is the last big, wild river in Europe outside Russia," says Ulrich Eichelmann of campaign group RiverWatch, which organized the scientists' petition to save the river. "We are trying to stop these projects and instead establish the first European Wild River National Park."
The river already has a small dam on one of its Greek tributaries. But hydrologists say its flow downstream through Albania remains mostly unchanged and its ecology largely unexplored.
Despite past election pledges to protect the river, the government in May awarded contracts to Turkish companies to build the dam. Energy minister Damian Gjiknuri told news agencies in July that the government was determined to proceed. "A developing country cannot be a museum," he said. "Hydropower has drawbacks, but every development has a cost to the environment."
Development also threatens a major body of freshwater in neighbouring Macedonia, where Europe's oldest lake, Ohrid, and its unique ecosystem is at risk because of tourism.
Reference: New Scientist.