The Silent Highwayman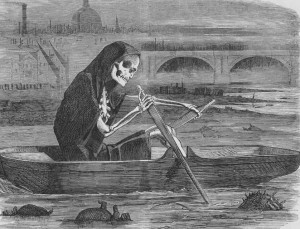 (Click picture for a larger view.)
Published by Punch magazine in July 1858, "The Silent Highwayman" serves as a grim reminder of the rank state of the River Thames, which in mid-nineteenth century London doubled as open sewer and drinking water source.
"The Silent Highwayman" serves as a reminder of a memorable time in London known as The Great Stink of 1858.  The great stink occured as the result of an intense heat wave and a spectacularly inadequate waste disposal system that created a stench of human excrement so noxious that it was said to be unbearable.
It was a time of typhoid and cholera. Londoners distrusted the drinking water, which came from the same river that received the city's raw sewage. One cleric observed: "He who drinks a tumbler of London water has literally in his stomach more animated beings than there are men, women and children on the face of the globe."
The Great Stink episode prompted action and London began work on a monumental sewage disposal system known as the Crossness Pumping Station. Opened on April 4, 1865, during a lavish ceremony attended by British royalty and the top celebrities of London society,  the new facility featured four mighty steam engines that pumped the city's sewage into a 27 million gallon reservoir where it sat covered until high tide at which point it was released into the Thames and carried out to sea. While this approach only exacerbated pollution levels downstream, it certainly proved effective in curing London of the unholy stink that plagued the city for a great part of the 19th century. Improved over the years, the Crossness Pumping station (now a museum) operated for around a hundred years. The original four mighty steam engines were not retired until 1956.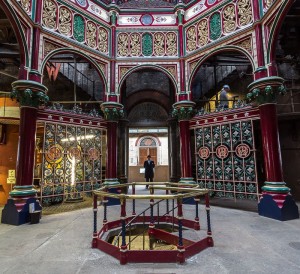 The Crossness Pumping Station is now an impressive museum in London. The four great steam engines, which were given names of royal family members, are on display.
Those who complain today of stricter regulation of water and air quality and increasing water treatment costs should remember that things were once a lot worse. Modern waste water treatment plants not only protect water supplies but are increasingly used to recycle waste water for reuse as potable water. So, quit bitching about increasing water rates. Pay up and be thankful you don't have to live with The Great Stink and fear of cholera.
More information from the Mother Nature Network.