---
Posted
November 24th, 2016
Not Afraid to Look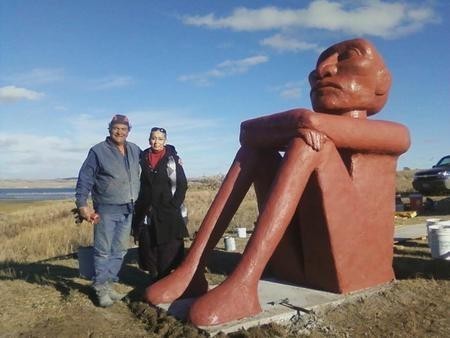 Since April, 2016 thousands of demonstrators have been camping out at the confluence of the Cannonball and Missouri Rivers on the Standing Rock Sioux reservation in North Dakota. These peaceful water protectors—representing more than 200 Native-American tribes, plus many nonnative allies—are demanding a halt to the construction of the Dakota Access Pipeline, which threatens the water and sacred land of the Standing Rock Sioux. Tensions are escalating—on the night of Nov. 20, North Dakota law enforcement deployed water cannons, tear gas and rubber bullets against the unarmed group in subfreezing temperatures.
On a hill above the Sacred Stone camp, a metal and concrete statue of a seated man surveys it all—the camp, the rivers, the impending construction, the often intense conflict—his expression calm but resolute. Not Afraid to Look, completed in October, is the work of Charles Rencountre, a Lakota artist based in Santa Fe, New Mexico.
Originally from South Dakota, Rencountre got his start as an artist 30 years ago by teaching himself to carve traditional, effigy-style Lakota pipes, as his grandfather did before him. Today Rencountre still focuses on effigies, though on a different scale, transforming the tiny carvings his ancestors made into monumental sculptures.
The statue at Standing Rock is based on one such effigy, a mid-19th-century Lakota pipe titled Not Afraid to Look the Whiteman in the Face. The piece features a bowl shaped like a white man's head; on the stem, an American Indian man sits looking directly at him. The pipe was made during a time of intense conflict between indigenous tribes and the U.S. government.
"It was a really difficult time for our people. We'd pretty much lost everything we knew," Rencountre said. "Some man out there in that world, that reality, was carving a pipe—it was a political piece that was saying, 'We're not afraid.'"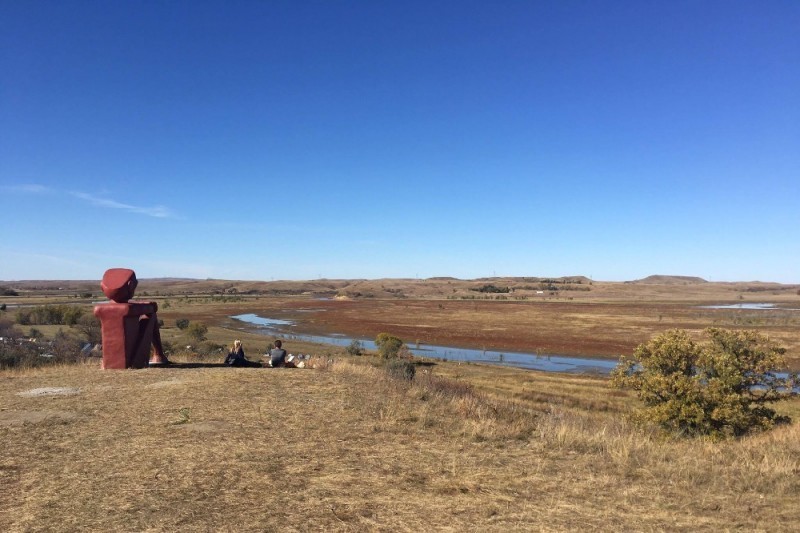 Adapted from an excellent article by Clara Chaisson.  Read the full original in EcoWatch.