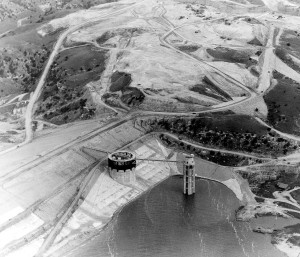 Kingsley Dam, 1941 (Click for larger view.)
Gazette Introductory Note: At a time when dams have fallen into disfavor and many of the older dams are now seen as an expensive nuisance to be gotten rid of, the  75-year-old Kingsley Dam stands as an exception. A product of combined private and public funding, the world's second largest earthen dam continues to provide electricity, entertainment, abundant water for agriculture, and important habitat for animals. –Hardly Waite.
The nation was changing quickly in 1910. Airplanes, radios and vacuum cleaners were new, and the Model T was a hot car. No one had an inkling about big things to come — things like World War I, Prohibition and the Dust Bowl. William Howard Taft was in the White House, and Nebraska still had a two-house Legislature.
It was against that backdrop that Charles McConaughy had his big idea.
McConaughy, a businessman and civic leader in Holdrege, Nebraska, dreamed of damming the Platte River and using the stored water to irrigate farmland.
Two years later, he gained his biggest financial supporter and promoter in George P. Kingsley, a banker in Minden, Nebraska. Together, McConaughy and Kingsley spent decades gathering support, acquiring the legal rights and procuring financing for the dam and lake.  The building of the dam was actually part of Roosevelt's New Deal project. It provided 1000 jobs during the darkest days of the Great Depression.
Today that big idea is known as Big Mac, and it has delivered all that McConaughy and Kingsley envisioned — and more. The story of Kingsley Dam and Lake McConaughy can be told partially in numbers. Big numbers, of course:
» Construction extended from 1936 to 1941 and, at its peak, involved more than 1,000 workers.
» The dam was a quarter-mile wide at its base, stood 162 feet high and stretched 3.1 miles across the Platte River valley.
» It required moving 39 miles of state and federal highways, 33 miles of Union Pacific Railroad track, 22 miles of county roads, 20 miles of oil pipelines and the entire town of Lemoyne.
» It became the world's second-largest earthen dam when completed.
» These days the reservoir waters 110,000 acres of Nebraska cropland, delivered via 575 miles of canals and pipelines.
The water stored behind Kingsley Dam cools the state's largest power plant at Sutherland. It's part of a system that is a source of water for four of Nebraska's five largest cities: Omaha, Lincoln, Grand Island and Kearney.
It provides flows for habitat critical to endangered species. It recharges the south-central Nebraska aquifer from water oozing out of the canals. And, since 1984, a hydroplant on the dam generates electricity.
The estimated annual economic benefits of the dam and lake for irrigation, hydropower generation and recreation range from $556 million to $806 million, according to a study by the federal Bureau of Reclamation.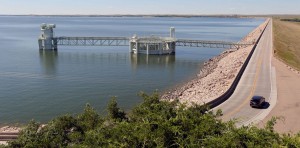 Kingsley Dam Today (Click for larger view.)