Hard to believe, Garden Hose Day is again upon us
Moving National Garden Hose Day from August to June makes the holiday's promoters look like geniuses.  Last year's event, on its new June 21 date, exceeded expectations in terms of crowd sizes, enthusiasm and product sales.
Although Minneapolis has become the unofficial capitol of Garden Hose Day activities, communities large and small around the US are holding Garden Hose celebrations this year. The Garden Hose Tug, an enhanced variation of the good old fashioned Tug O' War game, remains the main event in most Garden Hose Day celebrations, although garden hose crafts contests, in which contestants show objects they've created from garden hoses, are expected to run a close second in popularity at this year's events.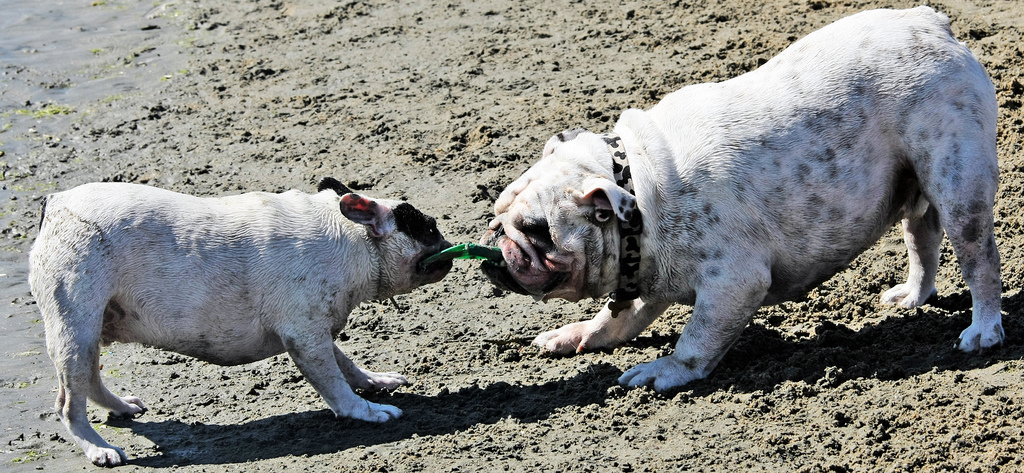 Last year Cleveland added a canine division to the Garden Hose Tug. In the final round, the event winner, Little Arnold, on the left, bested Spot, his weightier opponent, in less than four minutes.
The common garden hose is one 0f life's treasures that we take for granted.  When you think of it for what it is–a very inexpensive portable pipe that can bend around corners, roll up for storage,  and carry high volumes of water quickly over great distances–it deserves our admiration as one of civilization's simple but awe-inspiring achievements. For simplicity, for efficiency, and for utility, the garden hose is right up there with the canoe, the bicycle and the clothes line in the list of man's greatest creations. For gardening, car washing, filling pools–for more of our routine activities that we can recount–the humble garden hose saves time, money, and labor. But for many of us, the garden hose is of greatest importance because it evokes happy memories of childhood and summer days.
We urge you to go to a garden hose event in your neighborhood this year.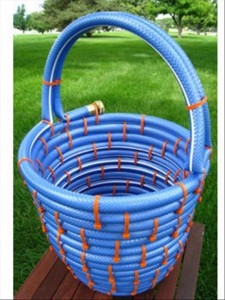 An attractive garden hose basket that is a popular item in Amazon garden hose stores. In addition to the almost limitless array of decorative hoses, there are special nozzles, colorful hose bibs, manual and electrically-powered hose dispenser/retractors,  hose splitters, hose repair kits, hose unions, hose protectors, and more.  Related items include lawn equipment, car wash paraphernalia,  clothing,  books about gardening, patio cooking, landscaping and washing cars, patio furniture, lawn sprinklers,  gardening tools–the list is endless. Yes, even X-rated products that include sex toys and clothing with suggestive phallic mottoes and pictures were on the market this year.